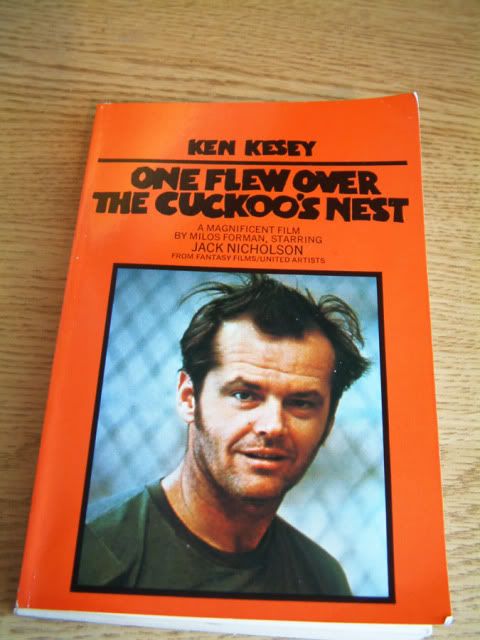 Blurb:
"

Boisterous, ribald, and ultimately shattering, Ken Kesey's One Flew Over the Cuckoo's Nest is the seminal novel of the 1960s that has left an indelible mark on the literature of our time. Here is the unforgettable story of a mental ward and its inhabitants, especially the tyrannical Big Nurse Ratched and Randle Patrick McMurphy, the brawling, fun-loving new inmate who resolves to oppose her. We see the struggle through the eyes of Chief Bromden, the seemingly mute half-Indian patient who witnesses and understands McMurphy's heroic attempt to do battle with the awesome powers that keep them all imprisoned."
I very much enjoyed reading this. We see the world through the eyes of a half American-Indian, a giant of a man called Chief Bromden. Chief doesn't say or do much of anything as the people who run the mental institution where the story is based, think he's deaf and dumb. He plays along with them and pretends because he finds it much easier to get by this way. One day, a loud red-haired man by the name of McMurphy is committed and begins to wreak hilarious havoc on this asylum which is run by a tyrant named Nurse Ratched, or the 'Big Nurse' as Chief calls her.

Once I'd gotten the image of Jack Nicholson finally out of my head (he played the character in the film adaptation), McMurphy really came alive for me in the novel. I loved his anti-authority stance, his overbearing confidence and his ability befriend a group of mentally ill patients, when he was actually faking to be there to avoid doing time at the Work Farm. Genuis! He is such an amazing character and was a delight to read about. McMurphy's defiance againt Nurse Ratched turns badly for him at the end but it was his confidence and personality that managed to finally free Chief Bromden, both physically and mentally.

Great book, definitely another one that falls into 'the book is so much better than the film' catergory.
9/10