A number of high street companies are being urged to ban the sale of sandblasted jeans. The process of sandblasting can cause serious illness to workers and even death. Campaign group
Labour Behind The Label
have highlighted this issue in their new report entitled
Killer Jeans
.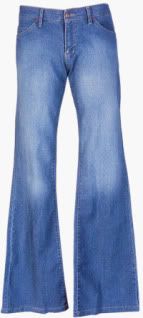 An example of a pair of sandblasted jeans
Sandblasting is a process that gives jeans a 'worn' look, one that has been popular for some time with consumers. Silica sand is one of the most commonly used mineral abrasives in the process. The compound breaks up very easily which leaves behind large quantities of dangerous dust and exposes workers to potentially contracting silicosis, a debilitating lung disease. Use of silica sand in this way has already been banned in Germany and Portugal for these reasons.
"
The trend for killer jeans must be phased out by companies and rejected by consumers with immediate effect."
- Sam Maher, co-author of the
Killer Jeans
report. She is also calling on the brands to compensate workers who have been made ill by using sandblasting machines.
Internationally famed denim brand
Levi's
and popular high street retailers
H&M
stopped use of sandblasting back in December.
Marks and Spencer
and
New Look
have also said they no longer use the process, whilst
Next
have declared that they have cancelled all new orders. Supermarket chain
Asda
have said it is in the process of phasing out sandblasted goods and budget retailers
Primark
are expected to be be 90% sandblast free by the end of the year.
Disappointingly, the high-end denim label
Diesel
says it would stop sandblasting on its products 'early next year' and
Matalan
have stated that it is currently reviewing the safety procedures of the process, implying no promises to stop the sale of sandblasted goods in its stores.
---
You can find out more from
Labour Behind The Label
.
Original news source The Telegraph via Yahoo! News

here