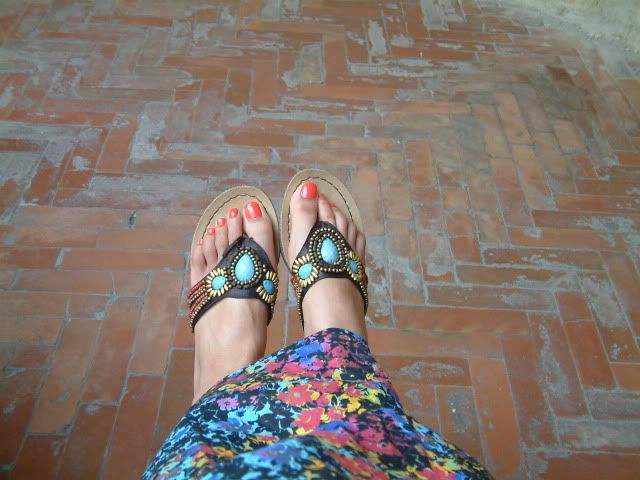 Maxi dress - Warehouse / Nails - Barry M Coral 296
I bought these shoes from
Marks and Spencer
the week before I went away. I'm always a bit wary of shoes and clothes with embellishment or any kind of beading on because they have a tendency to come off. I should have listened to my gut instinct. Two days into my holiday, the beads on the left shoe started to come off and some of the fabric at the top began to unravel. I wasn't impressed. As you can see from the photo, ALL of the beads around the first circle piece on the left shoe have come off and then some of the other beads decided to part ways too. The same began to happen on the right shoe. ANNOYING.
Back in the UK, I took them swiftly back to M&S, and they grumbled a bit as I complained. The conversation went a little like this...
Me: "Look, this is what has happened in just a few days of me wearing them!"
SA: "Well, because they have been worn, we can't really give you a refund..."
Me: "Can I speak to the manager then?"
SA: "OK, would a credit note be suitable?"
Me: "That's fine."
I've never had an issue with Marks and Spencer's shoes before but one woman behind me at Customer Services said she'll be bringing back some diamante flip flops that are less sparkly now due to the faux gems coming off. I have learnt my lesson: must say NO to shoes like the above in the future, they only look good for a day or so.