When it comes to highstreet fashion,
Topshop
has marketed itself perfectly as a much desired brand of 'hipster cool'. But its crown may be slipping. Whilst it still has its devotees, choice on the highstreet has never been so wide or affordable. And let's not forget the renewed interest in genuine vintage clothing and accessories, as well as those choosing to shop in independent shops to avoid looking like a 'Topshop clone' (
that £75 parka suddenly doesn't look so hip when a hundred other girls are wearing it at Glastonbury
) . Fashionistas and activists alike have been complaining for some time now over Topshop's ever increasing prices, its shoddy quality on certain lines, poor pay and conditions for its staff and of course, its fat cat owner Philip Green and his notorious tax-dodging.
Yesterday, Topshop disgraced itself again, after it was forced to drop an ad which featured a very skinny model, but only after pressure to do so came from eating disorder groups. The original ad below features the Australian model Codie Young:-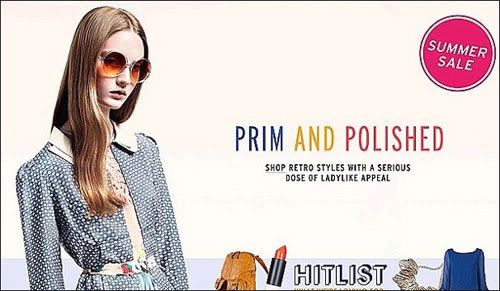 Helen Davies, from anorexia charity Beat, was one of the campaigners who said the image could encourage the eating disorder in young girls.
"For girls to see pictures of models who are this thin suggests that it's OK to be like that but it's clearly not. Images like this are affecting young girls more than ever before. Topshop needs to take some responsibility and use healthy models."
Another campaigner Karen Easthall, who runs a support group in
Norfolk
, suggested the model
"clearly looks like a size zero"
and could influence youngsters to try and look the same way.
"The girl looks ill. I dread to think how she looks under her clothes."
So what did Topshop have to say? Well...
Topshop has defended Young, saying she is
"a healthy young woman"
, but admitted that the original photo "accentuate[ed] Codie's proportions, making her head look bigger and neck longer in proportion to her body". They also added that
Young was a British size eight
, but that some of the clothes she wears in the catalogue are size ten, so "they may look a little looser than normal".
The ad was then replaced with the image of Young below.
What is worrying the most, is that Topshop thought it was perfectly acceptable for the original ad to be shown to it's increasingly younger target market. Had it not been for the campaign pressure, it would have stayed. Their ads have always played up their ideal image of a skinny, usually pale (diversity isn't really Topshop's thing now is it?), long haired, sulky looking female - this is what Topshop promotes. Do we, as consumers, still want this?
Source & photos