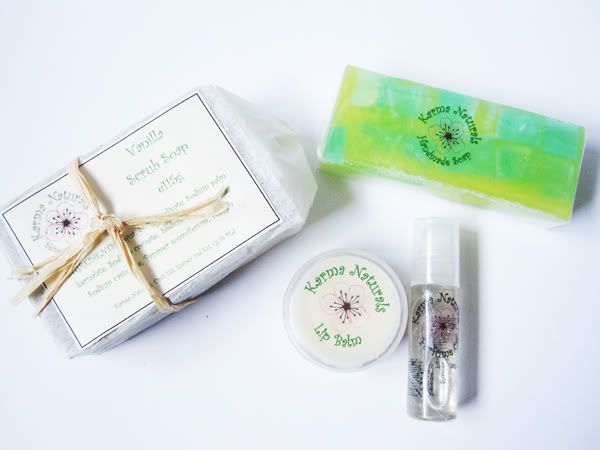 I was lucky enough to win these goodies from a new company called

Karma Naturals

, via their Twitter page. They create a whole range of affordable handmade and natural skincare products, so I was excited to try them out. One of the items that I received was a Sweet Temptation Perfume Oil which my sister promptly relieved me of (she did ask first though!), but it smelt good and the handy rollerball application makes it perfect for popping in your handbag.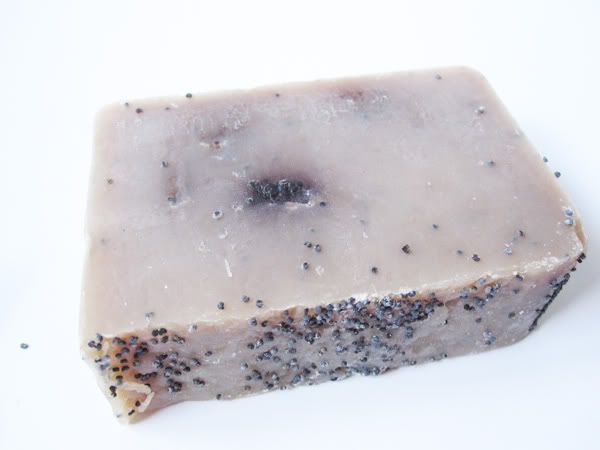 Wrapped in delicate tissue paper was a Vanilla Scrub Soap which is 98% natural and blended with shea butter. The 'scrub' part comes in the form of poppy seeds, meaning that it very gently exfoliates and won't irritate your skin. I generally prefer my scrubs to be a lot more fierce than this, but I loved the vanilla scent that this has, and it would be ideal for those with sensitive skin.




This vividly funky coloured slab is the Elderflower & Nettle Soap. I don't think I've ever used a soap that's had nettle extract in it before so this was interesting to use! It has a lovely fresh fragrance to it which reminds me of Spring. I'm currently using this up as a hand soap for which it works perfectly, though I imagine it would be equally as good in the shower!




Lastly, I was pleased to see a Rhubard & Custard Lip Balm and wasn't disappointed when I unscrewed the lid. It smells sweet like it's namesake, is incredibly moisturising (we're talking Burts Bees standard here!) and made my lips lovely and soft. I have tried countless natural lip balms in the past and this 99% natural one is seriously one of the best I've tried.

Have you tried anything from Karma Naturals?