That time has come again where women (and probably a fair few men) in their thousands rush to their nearest magazine retailer and consume, consume, consume. Yep, it's
Glamour-mania
. What is it this time?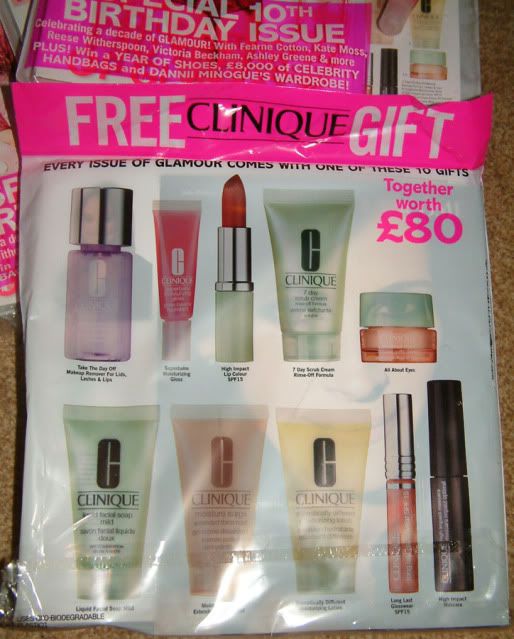 Ah,
Clinique
products!
Yeah, I shamefully went to WHSmith with a big stack of Glamour in my arms. My haul:-
High Impact Mascara
,
Superbalm Moisturizing Gloss
,
Take The Day Off Make-up Remover
,
7 Day Scrub Cream
,
Dramatically Different Moisturizing Lotion
,
Liquid Facial Soap
and two
All About Eyes
. These are all very generous sample sizes (30ml and 4g) and perfect for travel bags.
I wanted to get the Moisture Surge as well but alas, they had all been grabbed. Two products I wasn't fussed about was the High Impact Lipstick (I rarely ever wear lipstick) and the Long Last Glosswear (which I've tried before and despite its claims of being 'non sticky', I found it much too sticky).
I got the last two All About Eyes and would have picked up more if they were available, I love this eye cream and by the looks of it, a hell of a lot of other people do too.
A great promotion with the mags costing £2, it's easy to see why people went a little bit crazy. At the time of writing, there were still quite a few lipsticks, make-up removers and lots of the facial soap left.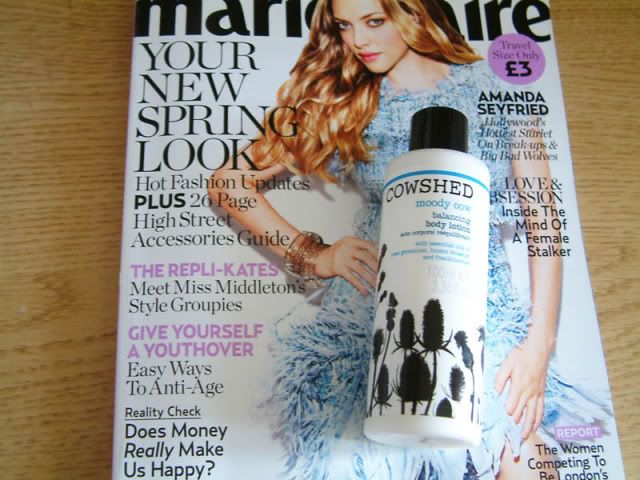 But why stop there? This month's
Marie Claire
(£3 travel size) has a 100ml
Cowshed
body lotion in six different scents (same ones as the shower gel freebies last year). I got the
Moody Cow
one, but refrained from collecting any others as I have a LOT of body lotion to use already.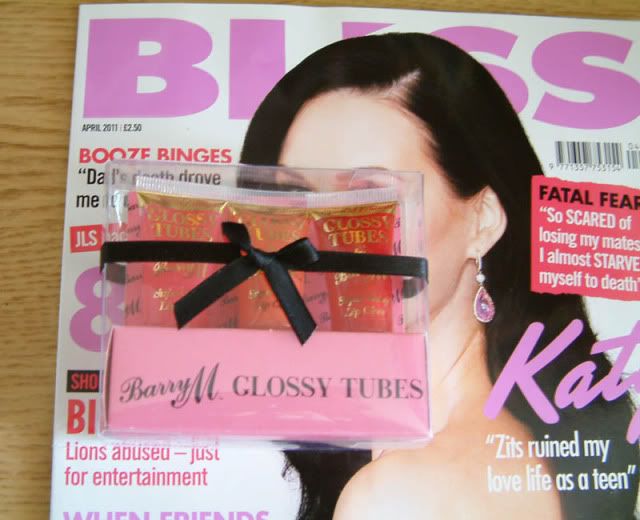 And this month's
Bliss
magazine has a free pack of lip gloss tubes in assorted colours from
Barry M
for £2.50.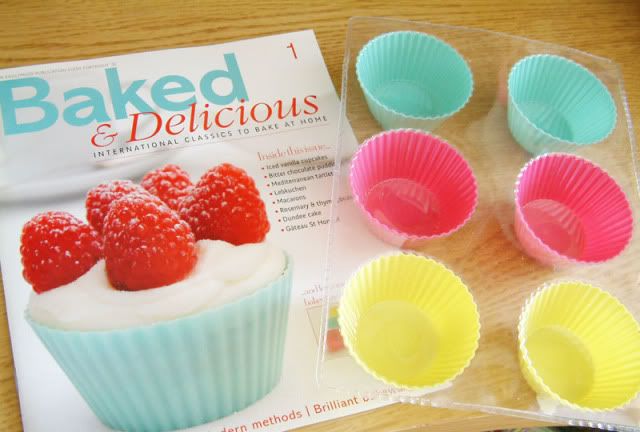 But let's not stop at beauty products. The newly released
Baked and Delicious
has a free pack of six coloured silicone cake cases. A steal at just 99p!
Whilst you enjoy your goodies, please remember to recycle all of those excess magazines you may have picked up. Pop them in your paper box for kerbside recycling, give one to a friend/relative, drop one off at the doctors/hospital, get out the scissors and make a lookbook or perhaps even an economic collage of how one goes into WHSmith intent on only spending £2 and comes out the other side of the checkout significantly poorer.