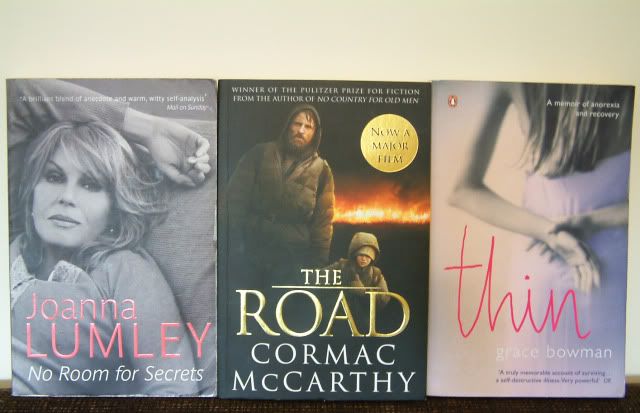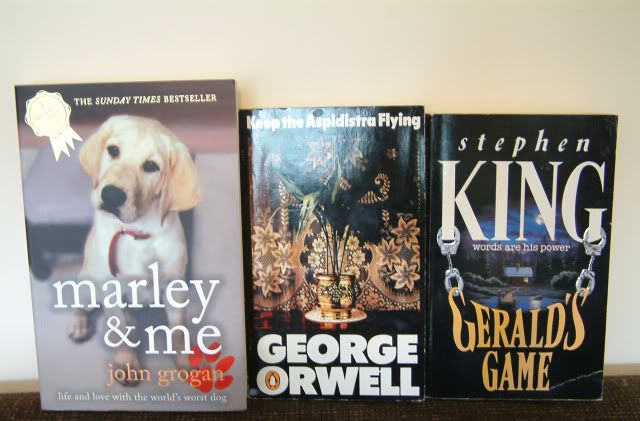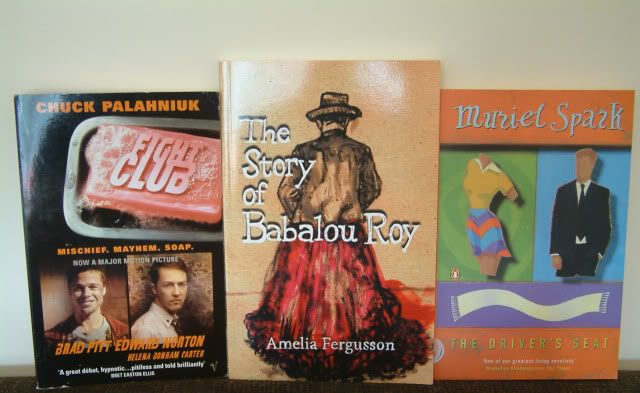 Another busy month for getting a lot of reading done. I always seem to read a lot more in the summer months, perhaps it has something to do with the longer days? This month I have read:-
No Room For Secrets

by Joanna Lumley
: her memoir where she takes the reader into her home and visits each room, one by one. It sounds like an interesting concept but becomes quite tedious as the book progresses. I expected so much more from this fascinating woman who I have long admired and was left feeling disappointed.
The Road

by Cormac McCarthy:
is a bleak and depressing take on a burnt out post-apocalyptic America, I loved it.
Thin

by Grace Bowman
: is the author's memoir of growing up with anorexia. It's insightful and emotional but the changes of first and third person were a little annoying.
Marley and Me

by John Grogan
: cute and heart-warming memoir which recounts a couple's life with a naughty dog.
Keep The Aspidistra Flying

by George Orwell
: I found this quite a tough book to get through because the protaganist/antihero Gordon Comstock is simply one of the most miserable characters I have ever encountered. Stick with it though, it is quietly brilliant in its own way.
Gerald's Game

by Stephen King
: good psychological horror about a woman who is handcuffed to a bed for a large portion of the whole book. Brings up all of those 'what would you do?' sorts of questions.
Fight Club

by Chuck Palahniuk
: pretty close to the film, definitely read it if you've watched the movie a million times like I have.
The Story of Babalou Roy

by Amelia Fergusson
: I won this via a Goodreads giveaway and it's amazing. A collection of eight short stories which showcase some of the worst sides of human life and the sad parts too.
The Driver's Seat

by Muriel Spark
: a really weird novella, seriously it's odd. Read it for 1001 Books You Should Read before you Die book club.
Then We Came To The End

by Joshua Ferris
: I was expecting a satire on the mundane lives of office workers but this was pretty boring. It has some good parts in it but the first third of it really dragged.
Prep

by Curtis Sittenfield
: great coming of age story set in a boarding school, enjoyed this a lot and the author did a fantastic job of getting into the head of a teenage girl.
The Call of Cthulhu and Other Weird Stories

by H.P Lovecraft
: collection of short stories that span a variety of genres including horror, paranormal, sci-fi and fantasy.
All Families Are Psychotic

by Douglas Coupland
: wanted to like this but just found it annoying. A silly cartoonish caricature of a dysfunctional American family that was trying way too hard to be cool.
Poems on the Underground

by Gerard Benson
: a good mix of old and new poems, one of those books which would be nice to dip in and out of or give as a gift.
Pride and Prejudice

by Jane Austen
: I'm not the biggest Austen fan but I did enjoy this. It was much better reading it from the perspective of an adult than it was when I was forced to read it at school.
Add me on
Goodreads
for more reviews and books :)