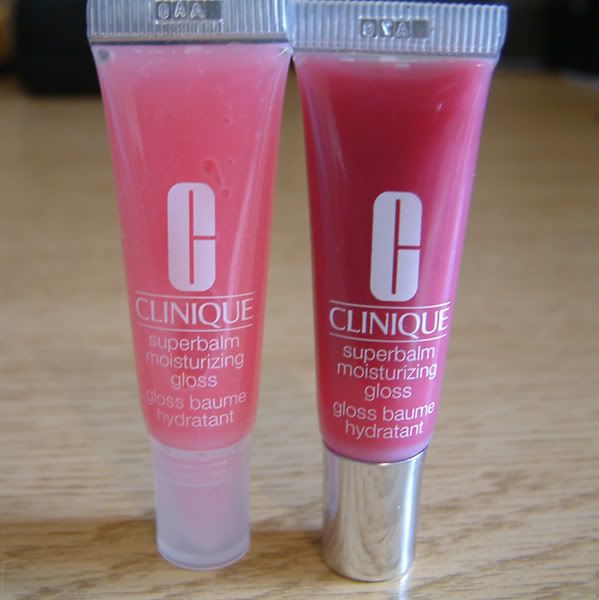 I've been trying out a couple of the
Clinique
freebies that I purchased in the recent
Glamour mag promotion
. One product that I knew I would love is the
Superbalm Moisturizing Gloss
, as I had tested it via another mag promotion (I think it was Elle). I'm not a big lipstick wearer, but I love glosses, especially sheer ones so these were ideal.
The product is described as "
lip balm with a colourful twist. Gorgeous colours treat your most undermoisturised skin to helpings of soothing shine. Instantly relieve dryness, protect with antioxidants and more
".
I can certainly vouch for this, it's a lip gloss and balm all in one. Dry lips are annoying and some glosses and balms just don't cut it when it comes to moisturizing so I was delighted to find that these Clinique ones live up to their promises.
As for the colours, I have sample sizes of Grapefruit (left) and Currant. Grapefruit is a pale blue pink with white shimmer, whereas Currant is a rich reddish deepened purple.
On my lips,
Grapefruit
is almost clear, a very, very pretty pale pink in some lights.
Currant
is also very sheer but has a slightly deeper red tone to it as you can almost see here.
These glosses retail for £13 for 15ml which I think is quite pricey. I think I'll be sticking with snapping up the various sample sizes (7ml) that always seem to be on offer on eBay instead, but other than the price, I do love these balm glosses.