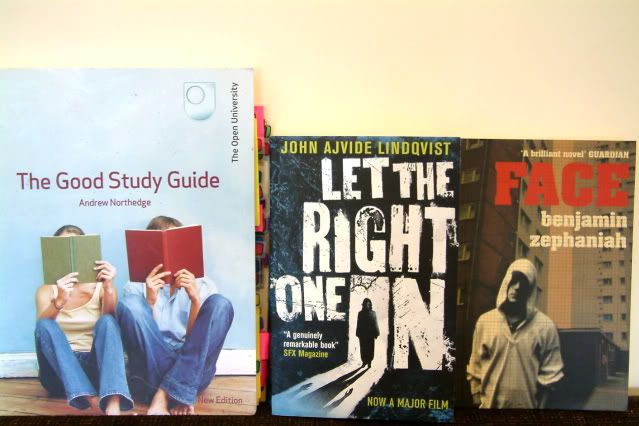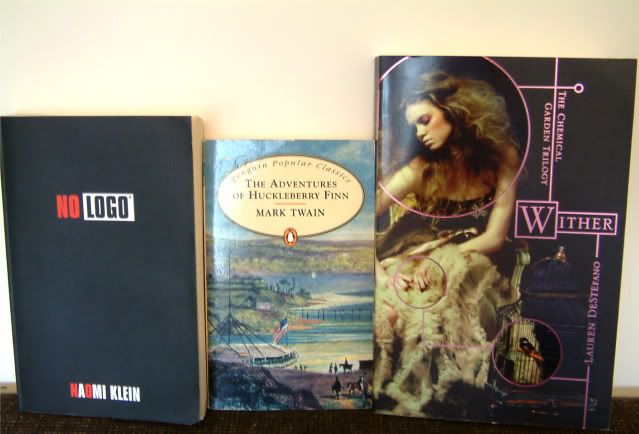 Here's a quick recap of what I've read this month:-
The Good Study Guide

by Andy Northedge
- Great guide which covers everything from writing better essays to variations on note taking and reading methods etc. Something I'll continue to reference from.
Let The Right One In

by John Ajvide Lindqvist
- Loved the film, the book is like a brilliant extended version with lots of character development and added back stories to give it more depth.
Face

by Benjamin Zephaniah
- Interesting young adult novel which looks at racism from the perspective of kids living in the new 'East End' of London. Anyone interested in social work and related fields should read this.
Room

by Emma Donoghue
- This book has been recommended to me by so many people but I couldn't get past the writing style of the five year old boy. I managed to finish it but I didn't like it much.
The Fountain

by Darren Aronofsky
- Beautiful graphic novel of the same film, stunning artwork. The story is pure escapism.
Seven Days To Tell You

by Ruby Soames
- I won this on Goodreads. I find it hard to find fun holiday reads that are intelligent and this one was just silly and mostly predictable.
The Colossus

by Sylvia Plath
- Her first volume of published poetry is miserable and full of references of death. I loved it. I'm planning on re-reading her other works soon too.
The Book Thief

by Markus Zusak
- Loved this so much, definitely one of the best books I've read all year and worthy of being an all time favourite of mine. It's set in Germany in WW2 and the ending will have you in tears. You have to read this.
Nineteen Seventy Four

by David Peace
- OK mystery novel, but I'm not compelled enough to read the rest of the series though.
V For Vendetta

by Alan Moore
- A masked anarchist tries to bring an end to facist rule in England. Coupled with Moore's brilliant prose, this is also one of my all time favourite books.
The Crush

by Sandra Brown
- Another Goodreads win! It was predictable but still an enjoyable escapism novel of the romance/mystery/stalker variety.
Birthday Letters

by Ted Hughes
- It was sad reading this emotional collection of poetry. I can't imagine what Slyvia and Ted's marriage must have been like, but this was a painfully close insight.



No Logo

by Naomi Klein
- I read this when I was a teenager and thought I'd give it a re-read. It's still depressing as hell but nonetheless an important book. Read it if you haven't already and want to find out more about how the world works and why etc.
The Adventures of Huckleberry Finn

by Mark Twain
- I've been meaning to read this for a while, I ended up enjoying it more than Tom Sawyer, excellent classic.
Wither

by Lauren Destefano
- Great young adult dystopia about men dying at the age of 25 and women at the age of 20 due to a genetic engineering flaw. Incredibly similar to The Handmaid's Tale concept wise about young women being kidnapped and forced to breed to 'save' the human race, but minus the heavy religious/political stuff. Looking forward to the second book in this trilogy.
Add me on
Goodreads
for more reviews and books :)