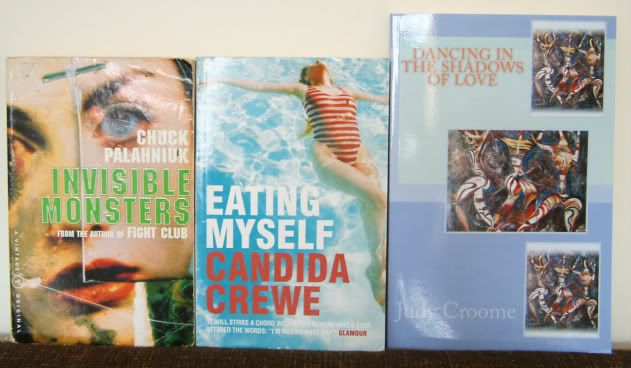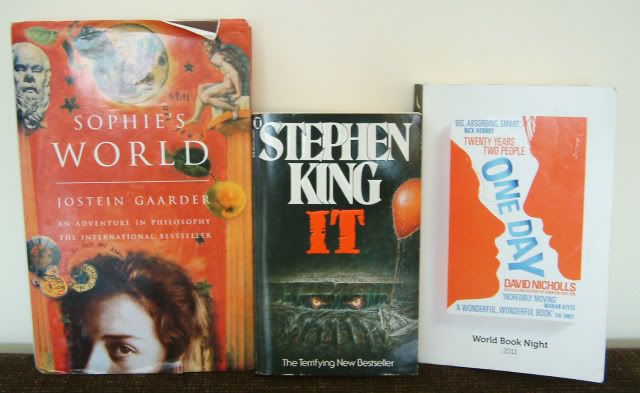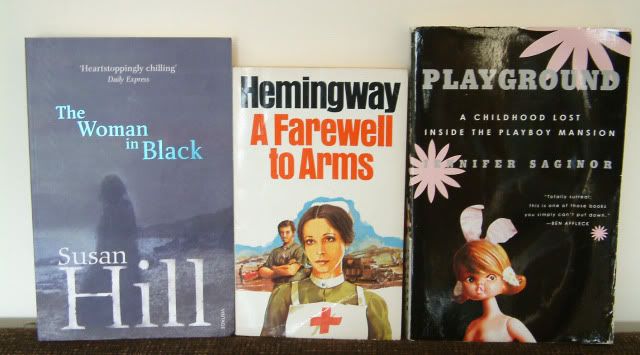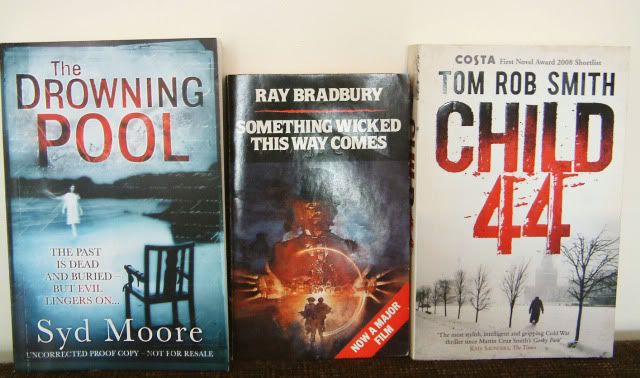 A recap of books I have read this month:-
Invisible Monsters

by Chuck Palahniuk
- Seriously weird and disturbing book! Took me a little while to get into the story but I soon found myself completely in love with it. Must make a note to purchase more of Palahniuk's novels.
Eating Myself

by Candida Crewe
- OK eating disorder memoir but the writing is very hit and miss.
Dancing in the Shadows of Love

by Judy Croome
- A clever interwoven tale of three inspiring women who overcome their troubled pasts to find peace and love. I wasn't sure whether I was going to like it at first but find myself enjoying it. This was yet another Goodreads win too!



Sophie's World

by Jostein Gaarder
- As a philosophy geek, I naturally adored this. If you're after an introduction to philosophy then this would be a good start.
It

by Stephen King
- Finally, finally got around to reading this! Enjoyed it a lot (clowns are scary!), so happy to read good King again, even if it did take me about two months to finish.
One Day

by David Nicholls
- The romance bestseller du jour, I absolutely loved this. Completely wasn't expecting it to be this good but it's witty and well written. Recommended. I also seem to be one of the few women left on the planet who hasn't seen the film yet.
The Woman In Black

by Susan Hill
- Classic short ghost story to get a head start on Halloween reading with. Spooky and suspenseful, written in a similar way to
Dracula
.
A Farewell To Arms

by Ernest Hemmingway
- First Hemingway book I've read and I wasn't that keen on the writing style to be honest. I thought that there would be a lot more description about the war and it was difficult for me to get into the story properly.
Playground: A Childhood Lost in the Playboy Mansion

by Jennifer Saginor
- Silly trashy read but 95% of it doesn't actually have anything to do with the Playboy mansion!
The Drowning Pool

by Syd Moore
- Another Goodreads win, this one is a great Halloween read, part ghost story, part historical fiction (about Essex witches) and part mystery. The first quarter of it is especially scary!
Something Wicked This Way Comes

by Ray Bradbury
- Fantastic story of two teenage boys who experience what happens when a dark and truly wicked carnival comes to their small town. A great mix of horror and fantasy with a quick to read prose that often implies the question of 'Is this all really happening or am I just dreaming?'.
Child 44

by Tom Rob Smith
- A fast-paced thriller set in the terrifying world of 50s Stalinist Russia. The State projects itself as having the 'perfect society' through its draconian regime, but a series of unexplained murders prompts serious debate on this so called utopia. Scary stuff.
For more books & short reviews, follow me on
Goodreads
. You can also find me sending out books for free via
BookMooch
.
Have you read any good books lately?