With the eagerly awaited arrival of Christmas goodies hitting
Lush
stores recently, it took a lot of willpower to not buy up the whole shop and I stuck to getting just two small bottles of shower gels. And maybe some other bits too...! Here's what I picked up:-
Snow Fairy shower gel
is my favourite Christmas product from Lush and I buy it every single year. It's girly pink with tiny sparkles in it and smells like sugary sweet candy floss! I'll be purchasing more of this in the Boxing day sales so this little bottle will have to tide me other until then.

Glogg shower gel
was launched last year (I think) and is a welcome festive treat with its warming spicy mulled wine scent that also smells a little like fizzy cola bottle sweets. I haven't come across another shower gel that smells like this yet so I always pick up a bottle when it's in the shops.
Honey Trap lip balm
is a deliciously scented vanilla and peppermint combo that helps my lips stay smooth and soft during the winter months. It's similar to my beloved Burts Bees but I like to buy this every now and again for a change. The best way to use Lush lip balms is to rub your finger over the balm a few times to warm up the wax and then it's a lot easier to apply. Well worth that extra little effort in my opinion.
Lemony Flutter cuticle butter
is another Lush product that I always pick up around this time of year or when I run out of my current pot. It's a very thick light yellow coloured, lemon scented buttery cream that can be used on any dry areas, such as cuticles, heels and elbows, around your nose etc and it also doubles up as an intensive hand and lip treatment. If your skin starts to go crazy dry in winter, then a pot of this should sort you out in no time. It also lasts quite a while as only a little needed so I find it excellent value for money.
Aqua Mirabilis solid body butter
- I decided to try this out as I'd used up my
Buffy bar
last month and wanted something similar. Aqua Mirabilis has a super creamy formula when applied to wet skin (make sure to rub it on away from running water though otherwise it's likely to disappear much faster!) and lovely scrubby bits for a good all over exfoliation. If you aren't a fan of the oily residue that comes from using Buffy, then Aqua Mirabilis might be perfect for you because it does the same as Buffy but washes off completely. However, I don't find it as moisturising as Buffy is for this reason but it's still a great bar.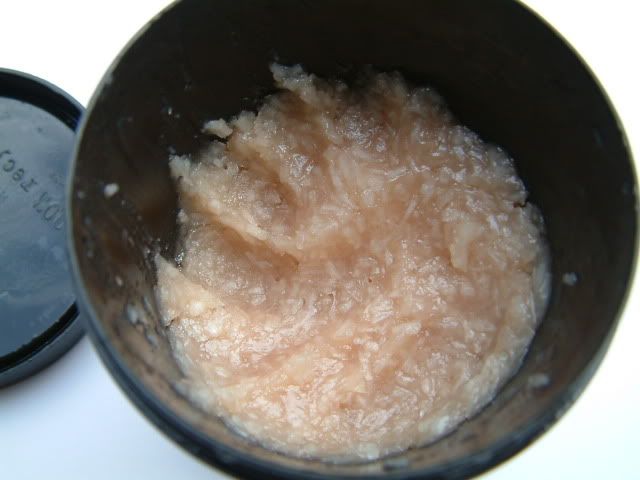 Curly Wurly conditioning shampoo
- this is the strangest shampoo I have ever used! Look at that formula! It's a thick, almost sticky feeling shampoo with lots of pieces of shredded coconut in it and it smells heavenly (or rather, like a shampoo that has pieces of coconut in it!). I've used it about three times so far and I'm still not sure how I feel about it. It conditions my hair well and leaves it soft, but those little pieces of coconut are a PAIN to wash out of my long hair. It might be best for those with shorter locks but I'll use up this pot.

Have you bought anything from Lush recently?