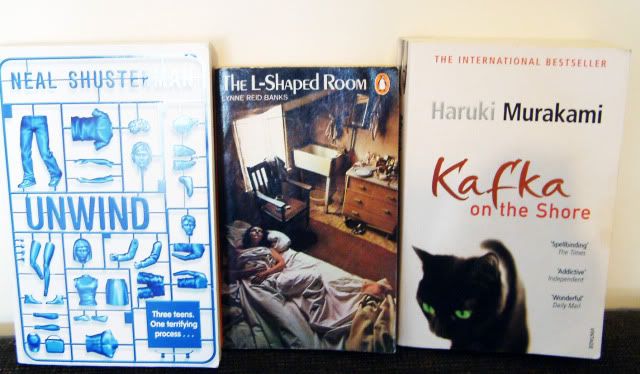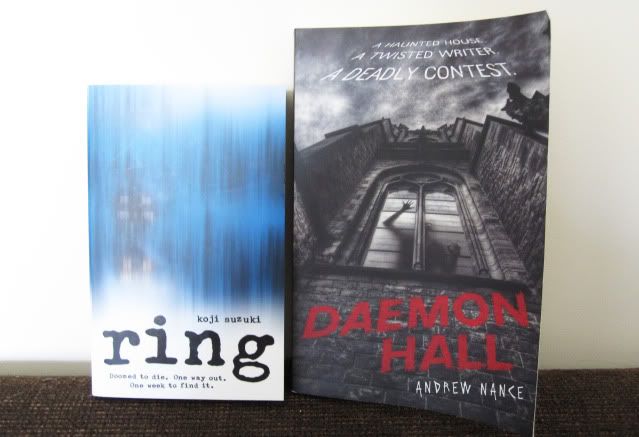 A little early to be doing this post, but I wanted to include my Halloween picks before the month was out, so here's what I've had my nose in for October:-
The Lovely Bones

by Alice Sebold
- I know a lot of people who adore this book but I felt like it was hugely overrated with an unbelievably ridiculous ending. Not my cup of tea.
The Strain

by Guillermo Del Toro and Chuck Hogan
- The Strain begins with a plane landing at an airport in complete darkness. None of the passengers step down, no word from the pilot, everything is silent. From this suspense filled beginning, the reader is introduced to the main characters and soon learns that something very evil is afoot. But then the story just seems to lose its enthusiasm and tries to drag out things which should have been answered and moved on from earlier in the book. This could have been so much better!
The Outsiders

by S.E. Hinton
- Cult classic from the 60s about two rival groups, the Socs and the Greasers. It's an interesting look at the rich/poor divide, but the language is a bit too overly poetic and theatrical in places. Still worth reading at least once though.
Unwind

by Neal Shusterman
- Brilliant YA sci-fi/dystopia which has the central theme of this chilling process called 'Unwinding' where teens are 'aborted' and sent to a harvest farm for their organs. Great pro-choice/anti-abortion undertones throughout.
The L-Shaped Room

by Lynne Reid Banks
- An odd book for me, I know that it was written at the start of the 60s but it was really quite difficult to get past the racism and homophobia. Storywise, I'm glad that I read it, but I wouldn't read it again.
Kafka On The Shore

by Haruki Murakami
- A strange book! I'm new to this magical-realism genre and Murakami's work, so this was an intriguing and confusing novel to read. I enjoyed the split chapters between the two main characters; Kafka, a young teenage runaway and Nakata, an older simpleton who can talk to cats. It's really bizarre and I picked up on some of the Greek tragedy references, but must admit that parts of it simply went over my head. I get the feeling that it's one of those books that perhaps makes more sense the more times you read it.
Good Omens

by Terry Pratchett and Neil Gaiman
- A hilarious satire about that eternal battle of Good and Evil with a strong Britishness about it that I just adored. The characters are strange and wonderful and I found it easy to get completely lost in the story. One of the funniest books I've read in a long time.
Time of Grace

by Gabriella West
- A wonderfully written love story between two women, Grace and Caroline, set against a fascinating backdrop of liberating Irish history.
Matched

by Ally Condie
- Matched is set in your typical totalitarian world, where the 'Society' controls every aspect of your life through some expert form of psychoanalysis. They decide where you will work and live, what food you will eat, exactly when you will die and who you will love. Great YA dystopian romance, looking forward to the film and the second in the trilogy.
Halloween
picks are
Ring

by Koji Suzuki
(original Japanese book from which the movie is based on) and
Daemon Hall

by Andrew Nance
(a silly trashy kids horror read).
That's all for this month, add me on
GoodReads
for more books & short reviews :)