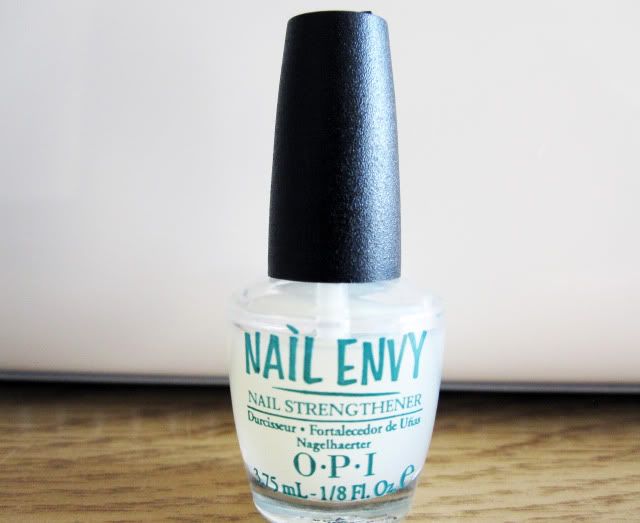 I wear a lot of nail polish and as a side effect, my nails aren't exactly in a brilliant condition. They're not awful looking, but they're not exactly pretty without polish on either. I'm not one to go for the long, talon nails look, but I do like strong nails that look healthy. With the onset of Winter, I've noticed my nails getting weaker and starting to split a little at the sides so I decided to pick up a mini size bottle of

OPI

's bestselling nail strengthener,

Nail Envy

, to try out. I must admit that I'm incredibly sceptical of these kinds of products because I think the secret of having great skin, hair and nails is mostly down to a good diet, beauty starting from the inside etc, so I was interested to see if this would actually make any difference.

OPI's Nail Envy has a protein and calcium rich formula to fortify and harden weak, thin or brittle nails, and the original one that I tried dries to a clear, natural finish. For the main course of treatment, you apply two coats on the first day and then apply one coat every other day for the rest of the week. After seven days, you need to remove all of the Nail Envy with an acetone free remover and then you can repeat the process the next week and so on. One point to remember is that Nail Envy doesn't act as a base coat, so whilst you're using it, it's best to avoid dark nail polishes that could stain.



Verdict:

I've been using this for about three weeks and it does seem to be working, kind of. My nails feel stronger than they ever have before, but as they grew longer, I did notice that they began to split again a bit at the sides which is the main problem that I had in the beginning. Other than that, I was genuinely surprised by how much stronger my nails felt. Especially on the last day of the week, before removing all of the coats, my nails felt like hardened plastic and looked incredibly shiny. I'm not sure if I would personally purchase a full size bottle of this yet, but you're interested, I would recommend getting the mini size first before splurging.