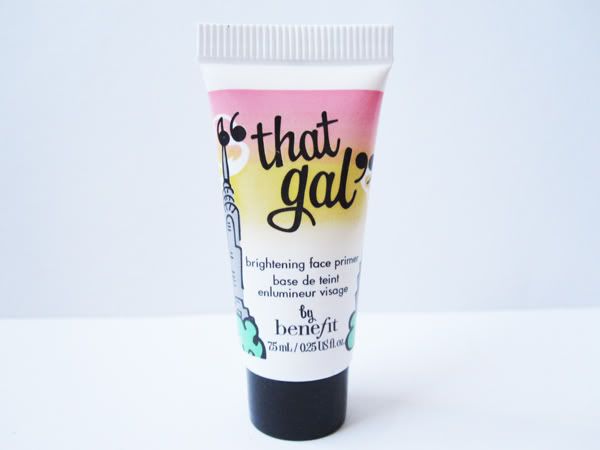 I picked this sample up from a Benefit counter last weekend. Initially I was after a sample of Porefessional but they were all out (that thing is selling like hot cakes too!). If you've ever been to a Benefit counter, then you'll know that the MUAs won't let you leave empty handed, even if you're only browsing like I was. I briefly mentioned that I was looking to try out some kind of primer, and asked if they had any of those little sachets of That Gal lying about. Immediately, she fetched me this sample tube, chatted to me about it for what felt like an hour, and finally away I went. You've got to hand it to those Benefit MUAs, they can talk for England!

Anyway, onto the product. Benefit's That Gal is a 'brightening face primer' which can be worn alone, under or over makeup to, you've guessed it, brighten your complexion.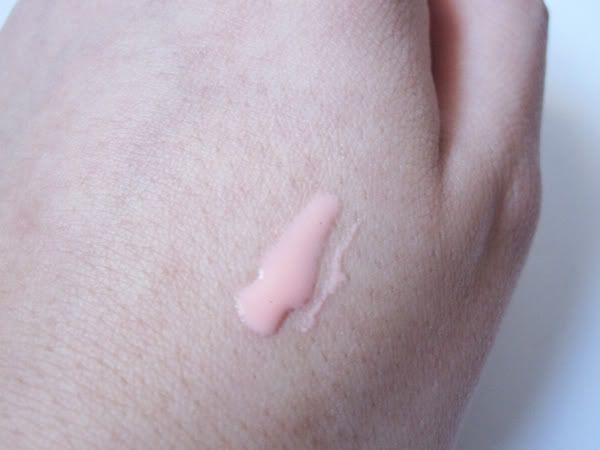 Straight out of the tube, it's a baby pink liquid which has the consistency of a body lotion. This is completely different to any primer I've tried before texture wise and felt a little greasy. The scent of it is like a mix between fruity and floral which I didn't like at all, but then again I want most of the products that I put on my face to be fragrance free.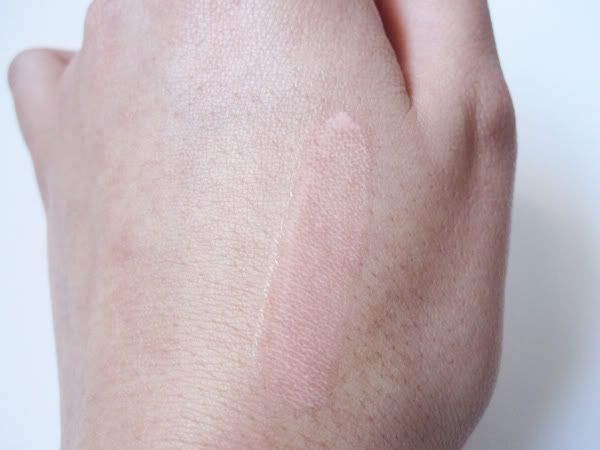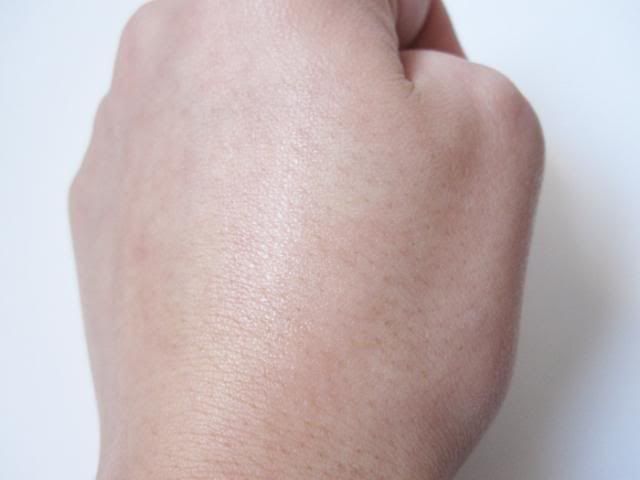 It blends seamlessly into the skin and gives it a pretty dewy finish as you can see above. I noticed an instant brightening effect to my face, with the pinkness of That Gal perking up my olive complexion nicely (plus, I think if you're much paler then this will be even more perfect for you). So far, so good.

When it came to applying my tinted moisturiser, this is where I ran into some trouble. Instead of having that common silky smooth type feeling that a lot of primers have, That Gal left something of a slightly greasy/tacky residue which made blending a pain in the ass. It felt like the tinted moisturiser was getting 'stuck' on top of the That Gal and required a lot time for blending it properly. I don't usually use a foundation brush when I apply tinted moisturiser, but had to with this one because using my fingers just wasn't budging it. I tried it with my foundation the next day and that was even worse because it was a thicker consistency and took even more time to blend as you'd expect. Once everything was blended properly, the 'brightening glow' had vanished and it looked like I hadn't applied any That Gal at all. At the end of the day, I didn't notice any difference in the primer prolonging my makeup either. When I tried That Gal over foundation, the same thing happened and it just seemed to disappear completely into the foundation with no 'glow'.

Summary: That Gal is brilliant if you wear it on its own on naked skin. You'll really see a brightening difference and I think this would be great for summer or taking on holiday when you don't wear much makeup. However, if you need any kind of coverage and want to wear it with tinted moisturiser/foundation, then this probably won't do anything for you. Also the claims of it being a 'primer' in the traditional sense are pretty much to be ignored in my opinion.

Have you tried That Gal? What do you think?