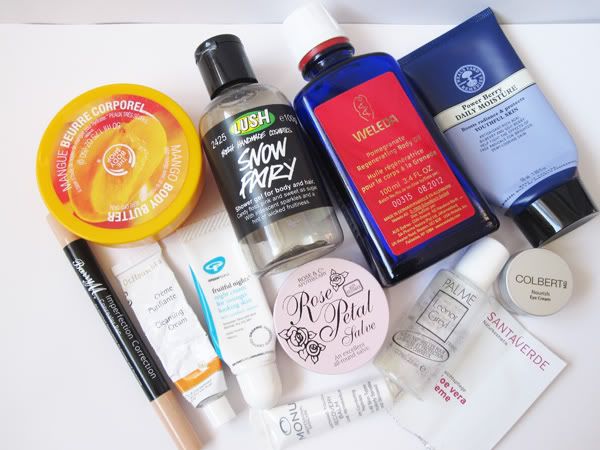 It's been another good month for finishing things up! Here are my monthly empties and whether I would choose to repurchase them:- The Body Shop Mango Body Butter - I have probably tried all of the flavours from the standard body butters range and must admit that Mango is the one that I like the least. The scent is just far too sickly for me, which is a shame because the formula is great for dry winter skin. Repurchase? No. Lush Snow Fairy Shower Gel - Have been using up the little bottles of this that I acquired at Christmas and still love it, wish it was available all year round! Repurchase? Definitely. Weleda Pomegranate Regenerating Body Oil I love oils and this is just so lovely to use after a shower. Repurchase? Yes. Neal's Yard Remedies Power Berry Daily Moisture Cream - I was recommended this by a Mac MUA as it's great to use on oily/combination skin if you don't want to use a primer. It does smooth out the skin nicely which creates a good base, but I found the more that I used this, the dryer my skin sometimes got towards the end of the day. Repurchase? No. Barry M Imperfection Correction Concealer Pen in Shade 3 - The worst item I have ever bought from Barry M, it didn't suit my skin at all, looked awfully cakey and dried up in less than a month. Repurchase? No. Dr. Hauschka Cleansing Cream - I was excited to try this out after reading some rave reviews but it sadly didn't suit my skin and smells awful. Repurchase? No.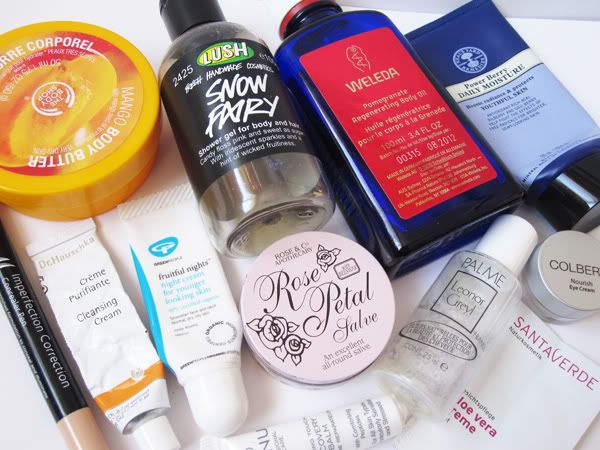 Green People Fruitful Nights Night Cream - Can't vouch for the younger looking skin claims, but this was lovely to use and made my skin very soft and smooth in the morning. I also liked how a little went a long way with this. Repurchase? Yes. Rose & Co Rose Petal Salve - As much as I liked using this up, I'm trying to steer clear of products that have petroleum in them so I'll try and find a similar product that is natural. Repurchase? Not sure. Monu Recovery Balm - Such a tiny sample that it's difficult for me to judge really, thought it was OK from what I used. Repurchase? Probably not. Leonor Greyl Palme Oil - This little 25ml bottle has lasted me several months of weekly uses. I liked it, but probably not enough to buy a full size due to the price. Repurchase? No. Santaverde Aloe Vera Creme Light - I think I'm super sensitive to aloe vera as this irritated my skin so much so that I had to wash it off straight away, not for me! Repurchase? No. Colbert MD Nourish Eye Cream - This was the famous £90 eye cream sample from a Boudoir Prive. My verdict? It was OK, but my significantly cheaper Clinique one is much better and far more moisturising. Repurchase? No.

What are your empties this month?