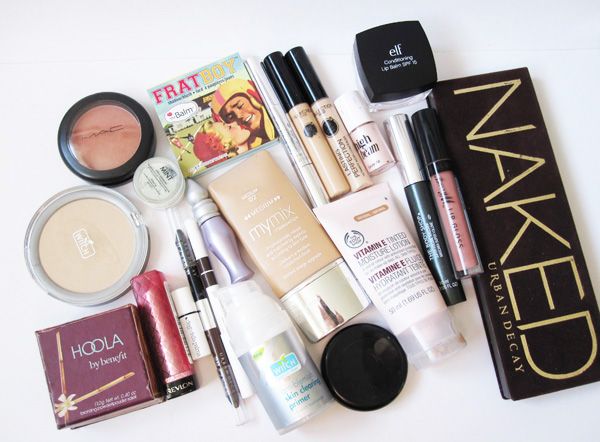 Keeping my travel make-up fairly simple(ish!) and packing all of the above:-
Brows
: Korres Eyebrow Pencil in 1 Dark Shade
Eyes
: Benefit Lemon Aid, Urban Decay Primer Potion, Urban Decay Naked Palette, Urban Decay Double Eyeliner with Zero and Whiskey, The Body Shop Super Volume Mascara.
Face
: Witch Anti-Blemish Skin Clearing Primer, MyFace MyMix Foundation in Medium 02, The Body Shop Vitamin E Tinted Moisture Lotion, Collection 2000 Lasting Perfection Concealers in 2 Light and 3 Medium, Everyday Minerals Mint Colour Corrector, The Body Shop Lightening Touch Pen in 03, Benefit High Beam, Witch Pressed Powder.
Cheeks & contour
: The Balm Fratboy Blush, MAC Eversun Beauty Powder Blush, Benefit Hoola bronzer
Lips
: Revlon Colorburst Lip Butter in 050 Berry Smoothie, Diego Dalla Palma Lipstick in 42, Barry M Lipgloss Wand in Toffee, Elf Conditioning Lip Balm with SPF 15 in Nice and Natural.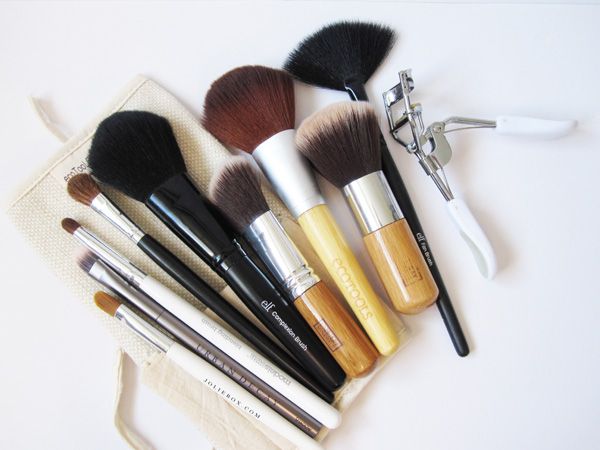 Onto brushes (all of which will obviously be cleaned beforehand! from L-R):-
Joliebox Concealer Brush, Urban Decay Eyeshadow Brush (that came with the Naked Palette), Models Own Eye Blending Brush, Avon Eyeshadow Brush, Elf Complexion Brush, Everyday Minerals Angled Contour Brush, Ecotools Blush Brush, Everyday Minerals Kabuki Brush, Elf Fan Brush, The Body Shop Eyelash Curlers.
Only last thing to pack beauty-wise other than the bigger stuff like straightners and hairdryer etc, are nail polishes, will probably take two or three with me I think.
Are there any amazing Japanese beauty brands I should be looking for?