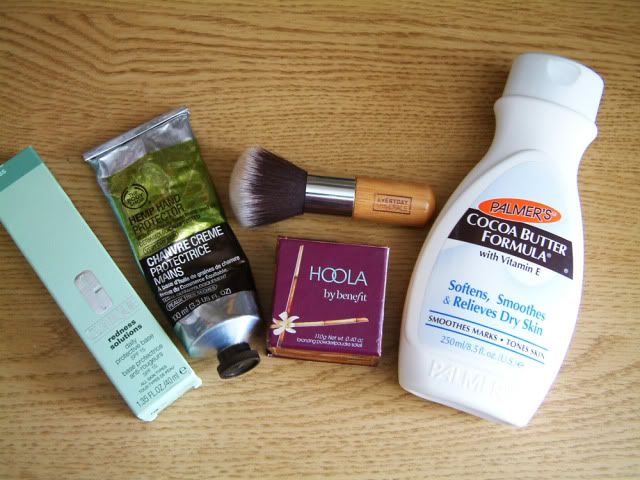 These are my current five products that I use daily or nearly everyday.
1. The Body Shop Hemp Hand Protector - I bought this for the first time about two months ago when it was in a half-price sale, a bargain at £5 for the 100ml tube. It's a thick, light green coloured cream with the texture of a body butter. A little goes a long way and it soon soaks into hands with no greasy feeling. I use it once a day before going to bed and wake up to lovely soft hands. This is particularly good if you have very dry hands (I imagine this is amazing to use in winter) or you just want to keep them supple. If you haven't used products with hemp oil in before, then the smell might be a bit off putting at first (it's not particularly gross or anything, just different!) but it doesn't bother me. Although I do love this product, I wouldn't purchase it at full price (£10), only because The Body Shop seem to have sales and offers on all the time and the Hemp Hand Protector is usually one of the featured products as it's a bestseller.
2. Palmer's Cocoa Butter Lotion - My favourite 'budget' body lotion by far. Another product that is usually always on sale somewhere, I generally pick this up and pay about £1.97 for 250ml at Wilkinsons. Most budget body lotions I have tried either irritate my sensitive skin or don't moisturise enough, but Palmer's always works for me. I love the smell of it too, it's a bit like vanilla ice cream! If you're not a fan, they also do a fragrance free version. I don't think it does a great deal to improve the appearance of stretch marks, but as a general all-round body lotion, I love it. This would also be particularly great in winter for making dry skin nice and soft.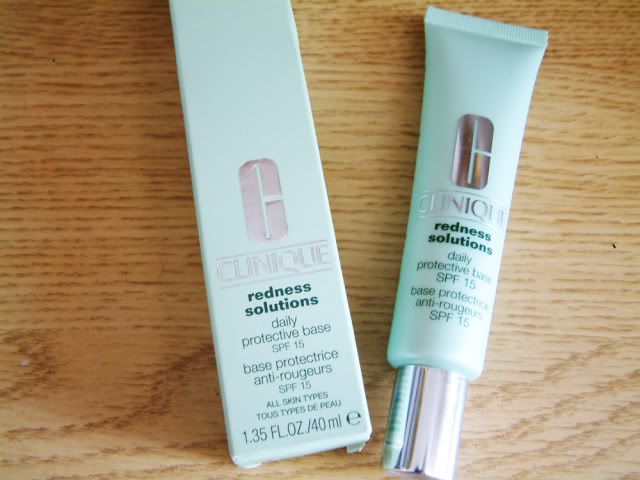 3. Clinique Redness Solutions Daily Protective Base
- I've always had problems with redness around my nose and whilst it's not a big issue, it does make me feel a bit self-conscious as make-up doesn't cover it. I've tried those colour correcting powders but they don't work for me as the skin around my nose is also very dry so they just draw attention to it. This Clinique product is a thick green coloured cream which corrects the redness and cancels it out. It also doubles up as an oil-free primer and has SPF 15.
And
it lasts forever as you only need the tiniest amount, not bad at all!
4. Benefit Hoola Bronzing Powder
- My favourite (and much loved by many, many others) bronzing powder that is
matte
. This is definitely its USP, I really don't know why more brands don't do decent matte bronzers? Anyway, it's silky soft and seems to suit a good number of skin tones. I generally use Hoola as a normal face powder in the summer as my olive skin tans very easily, but paler girls can contour nicely with it. Only downsides (other than the price) is that the brush that comes with it is crap and the packaging box thing it is in gets tatty very quickly. It does last me a long time though, I've been using the one pictured for a good few months now and it barely looks used.
5. Everyday Minerals Long Handled Kabuki Brush - OK so technically not a product, but a tool that I use every time I wear make-up. It works well with Hoola above and any other face powders. It is the softest synthetic brush I've come across so far, and feels softer than most of the animal hair ones too! I've been using it for over a year and it's never shed once, brilliant.