Urban Decay have recently celebrated their 15th anniversary and launched a super amazing eyeshadow collection and eye liner pencil set. UD have always been a firm favourite brand of mine and I've been doing some serious umming and ahhing about whether to splash out on the new palette/box.

Whilst most will agree that their eyeshadows are some of the best on the market, I don't see as much praise for their 24/7 eyeliner pencils as I used to, perhaps due to the popularity of gel liners. I still use my 24/7s on a regular basis though because they are super smooth and creamy, never drag on my skin and last all day.

Above are the ones I have in my collection and some swatches below. Most have been acquired through palettes/Ltd Ed sets.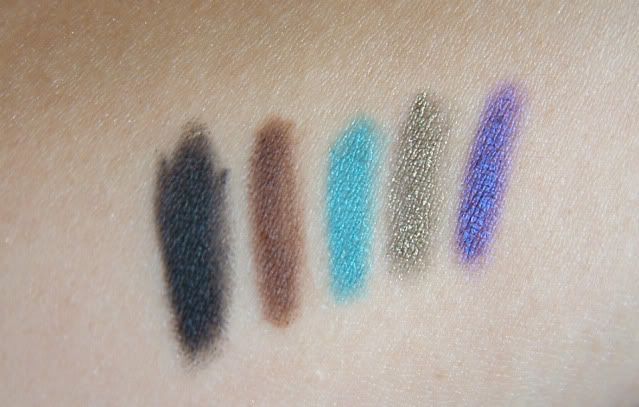 From L-R:

Zero

(not the blackest black but I still like it for everyday wear),

Whiskey

(gorgeous brown),

Flipside

(from the Alice in Wonderland set, a vivid turquoise),

Stash

(the most perfect shade of gold, this is probably my favourite) and

Ransom

(amazing purple/blue/metallicy shade).