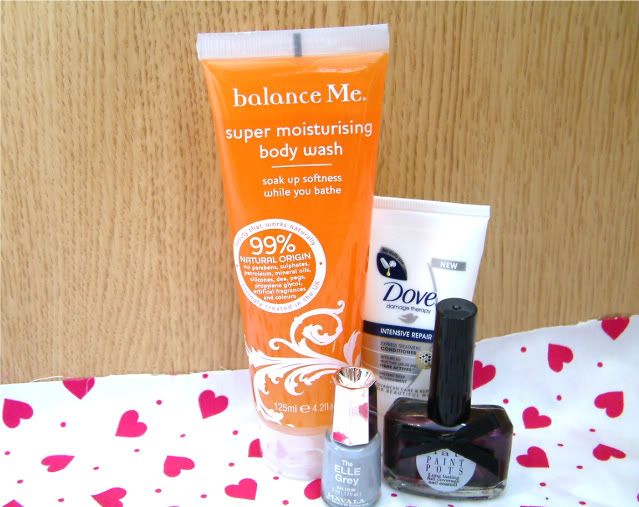 Here's my little magazine freebie haul, better later than never! :-

With Red, I got the orange

Balance Me Super Moisturising Body Wash

. I know, I know, I have a MILLION shower and bath products already, but this one is 99% natural ingredients, has no nasties like parabens, sulphates etc and is from an eco-brand I have been wanted to try for a while. Plus it's a decent size product!

With Elle, I picked up the pale grey mini

Mavala

nail polish. I didn't have a polish in this shade so this was of course a

completely

necessary purchase.

And with Marie Claire, I got the full size

Ciate

nail polish in Wait Until Dark. I haven't been that impressed with the Ciate brand in the past, so I thought I'd give them another go. Also with the mag was a travel size Dove conditioner which I wasn't that fussed about but I'll try it out nonetheless.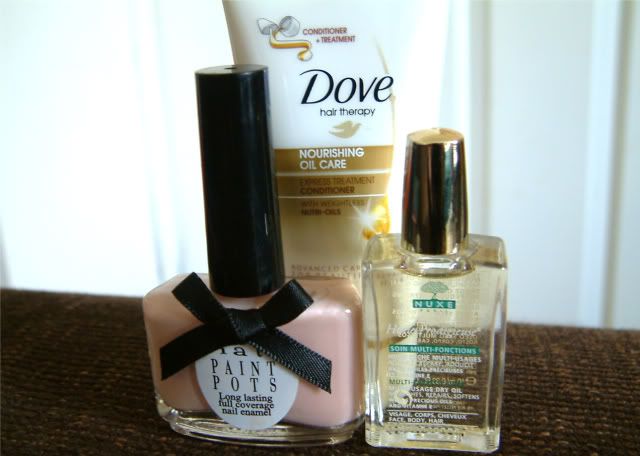 My sister came around earlier and brought with her another copy of Marie Claire with the other free nail polish shade, a pale neutral pink called My Fair Lady. She knows me too well!

And what's that other little item? If you saw my Beauty Box post, you'll remember that I was disappointed with a sticky Xen Tan that I received. I emailed the company and they gave me four luxury sample options to choose from as a replacement. I picked the

Nuxe Huile Prodigieuse Multi-Usage Dry Oil

(10ml size) which can be used for face, hair and body. It smells amazing so I'll do a review on that when I've used it. The customer service I received from Beauty Box was very good so I've decided to keep my subscription for another box and then I'll see how I feel after that one.