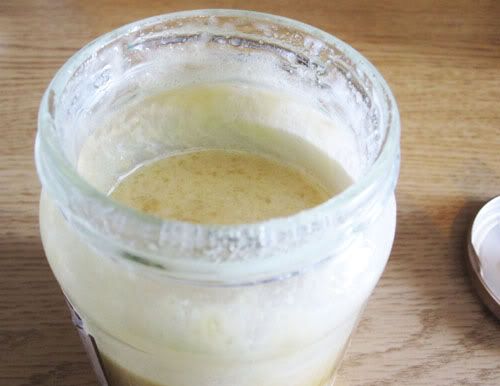 I am a little obsessed with

body scrubs

. I use them a couple of times a week to keep my skin in a good shape and find them especially effective for helping with dry winter skin. This all natural DIY scrub is so easy to whip up.



You will need:-


- A pot of honey (any runny type will do)
- A bag of salt (you can either use super cheap table salt or for a tougher scrub, I used the bigger sea salt crystals, which are still really cheap)
- A fork or similar tool to stir with
- A container of some sort to hold the scrub

To make:-



1.

Pour some honey into the container. It's best to make this in small amounts fresh, as and when you want to use it.


2.

Add some salt to the honey a little at a time and stir in. How much salt you want to add is up to you but you want to aim for about two parts honey to one part salt roughly (add more salt if you want it more scrubby).


3.

When you're happy with the honey/salt ratio, give it a really good stir with the fork and you're done.


4.

Apply to wet or dry skin and rinse off. Hello exfoliated skin!

I find this is also great to use as a face scrub, and would recommend trying it out on a bit of your body first to see how you like it.