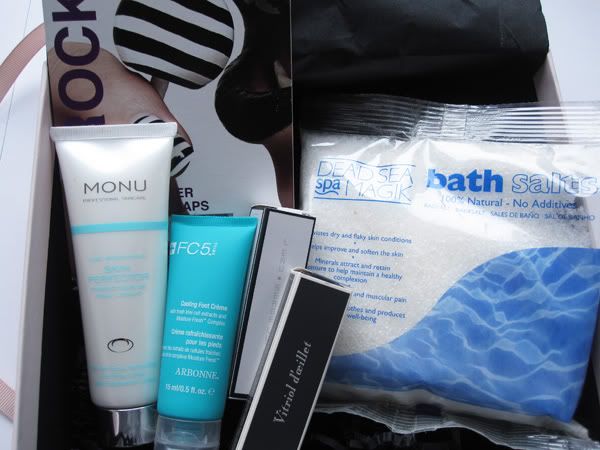 So this month's

Glossybox

was once again surrounded by a bit of drama, judging from Twitter et al. Here's what was in my November box, named the Christmas Gift-Guide Part 1...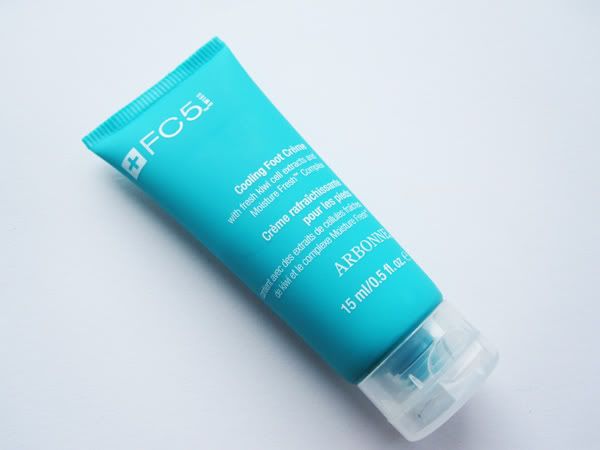 (1) Arbonne FC5 Cooling Foot Creme

, 15ml sample (full size 118ml - £19) - "

moisturising, non greasy foot creme hydrates rough, dry skin and soothes, cools and comforts tired feet

". Erm yeah. A 'cooling' foot cream is probably one of the worst beauty care items one could receive during the winter months. Not sure about anyone else, but my tootsies are currently wrapped under two pairs of woolly socks and they're still sometimes cold!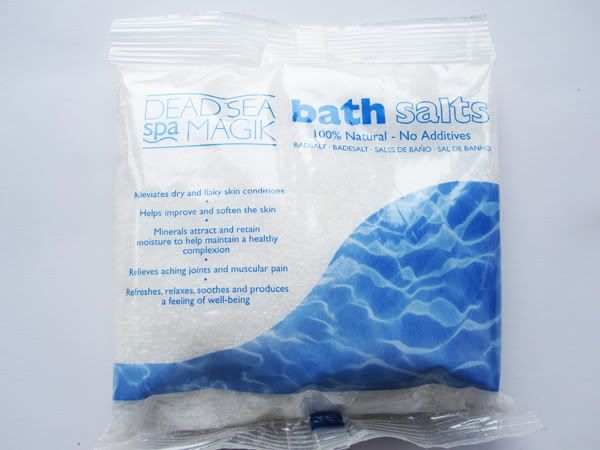 (2) Dead Sea Spa Magik Dead Sea Bath Salts

, 250g bag (full size 1kg - £5.50) - "

fantastic for alleviating dry skin conditions as well as a natural exfoliant, also remarkably improves skin texture

." Now this makes more sense for a November box. Personally, I don't really use bath salts, I'm definitely much more of an aromatherapy/ bath oil or Lush bubble bar/melt kinda girl. Happy that it's 100% natural though and it's a good size to try out with.






(3) Monu Skin Perfector

, full size 50ml (£16.25) - "

a weightless cream that instantly smoothes imperfections and enhances natural radiance

." This is for smoothing fine lines so more suited for mature skin. I asked my mum if she wanted it and she's already tried this before and wasn't a fan.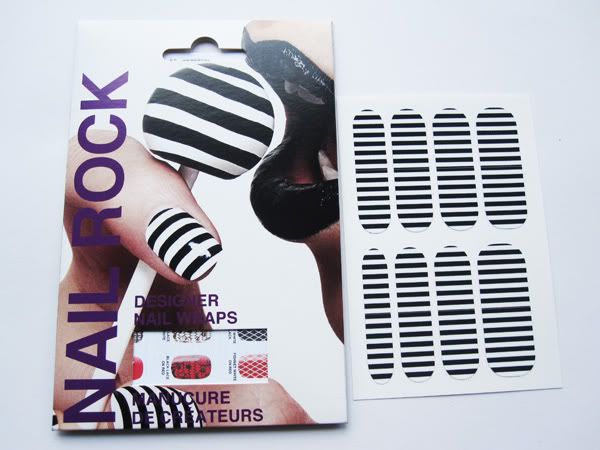 (4) Nail Rock Designer Nail Wraps

, full size (£6.65) - "

requires no drying time and delivers on trend style in just 15 minutes

." I have tried nail wraps before and they are a pain-in-the-ass to apply gimmick. You also have to use an acetone based nail polish remover with these and nothing destroys natural nails faster than acetone does, surely most people know that by now? Plus the design I've been sent is just not my style.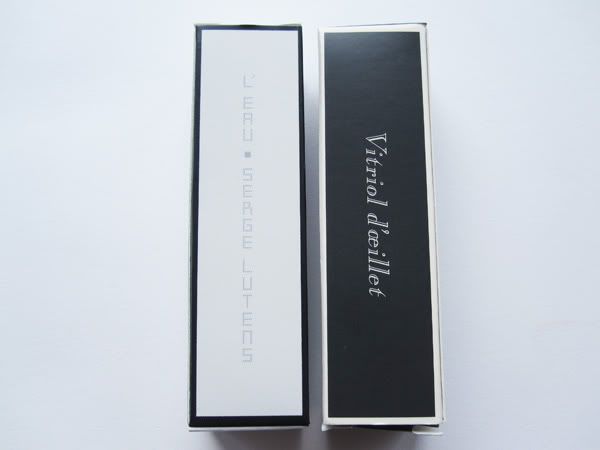 (5) Serge Lutens Eau De Parfums in L'Eau Serge Lutens and Vitriol d'Oeillet, 1ml each (full size 50ml - £78) - these perfume samples are scents for both men and women (I'm guessing these were included because Glossybox are launching their Mens box soon). They smell awful!



Summary:

Well...I know that beauty boxes are often a mixed bag (or rather box) of products and it's unlikely that you'll receive boxes every time where you love absolutely everything. But this box is just not for me at all - a cooling foot cream for November, anti-aging/fine lines cream, ugly nail wraps and unisex perfumes, that's 4 out of 5 that I wouldn't even bother trying out. I'm sending it all back for a refund and cancelling my sub. I may or may not sub again to receive the Christmas box and will likely be basing this decision on whether their returns service is hassle free etc. But for the time being, my thoughts are that I probably won't be a customer of Glossybox in 2012.



Did you receive a Glossybox this month?