I have a crazy amount of empties this month, due to using up a lot of the contents of my travel bag over Christmas. Here's what I've used up and whether I would buy them again:-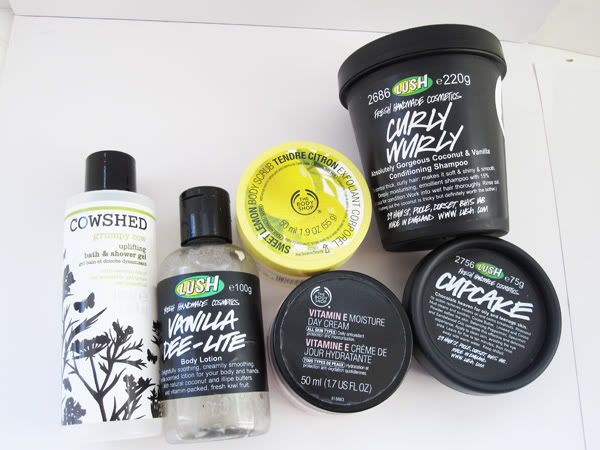 Cowshed Grumpy Cow Uplifting Bath & Shower Gel
- this has been in my travel bag since Summer and it reminds me of a subtle version of
Lush's Happy Hippy
. It has a delicate citrusy scent and is made with essential oils of red mandarin, petitigrain and grapefruit. Repurchase? Maybe - I like it, but I like Happy Hippy more.
Lush Vanilla Dee-Lite Body Lotion
- another item that I've had lingering in the bag since Summer. It's OK, but definitely a light spring/summer time only body moisturiser for me. Repurchase? Probably not.
The Body Shop Sweet Lemon Body Scrub
- I got this in a gift set for Christmas and have wanted to try it for ages, but I was a bit disappointed with it. I like the scent but prefer my scrubs to be tougher than this. Repurchase? No.
The Body Shop Vitamin E Moisture Day Cream
- No idea why this was in the travel bag because I love it! One of my all time favourite face moisturisers and one that is frequently half price or on offer a lot. Repurchase? Yes!
Lush Curly Wurly Absolutely Gorgeous Coconut & Vanilla Conditioning Shampoo
- I have a serious love/hate relationship with this shampoo. Pros: my hair seems to love it and it makes it incredibly soft. Cons: the little pieces of coconut are just too much of a PAIN to wash out of my medium length/thick hair. Repurchase? Sadly no, I don't want to take half an hour every time I want to wash my hair!
Lush Cupcake Fresh Face Mask
- Love this so much, absolutely perfect for my oily/combination skin and makes it feel so clean and clear. Repurchase? Definitely.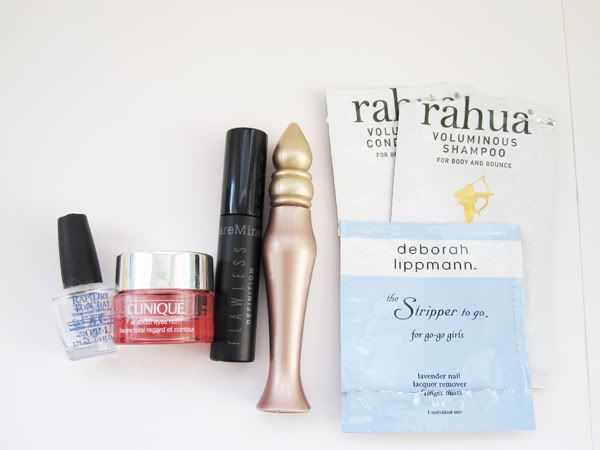 OPI RapiDry Top Coat
- This was from a minis set, it's OK but nowhere near as good as Seche Vite. Repurchase? No.
Clinique All About Eyes Rich
- I've used the regular version of this for nearly two years and switched to this one when I received it in a giftset for my birthday. It's thicker than the regular one so I've only ever used it at night before going to bed. Repurchase? No, I think I'll stick to the normal one.
bareMinerals Flawless Defintion Mascara in Black
- a fantastic mascara that I featured in a
Favourites
post a while ago. Repurchase? Yes.
Urban Decay Primer Potion in Sin
- another product that I love, I've used the normal UDPP for years and switched to this when it came out. It's nice enough to wear on its own and have a gorgeous subtle gold shimmer tone to it. Repurchase? Yes.
Rahua Voluminous Shampoo & Conditioner
- I was excited to try these out after receiving them in a
Boudoir Prive
box. They were nice enough to use but I didn't really notice that much difference to my hair. Repurchase? No.
Deborah Lippmann The Stripper To Go Nail Lacquer Remover Mitt
- From this month's
Glossybox
, I had high hopes for this but found it really annoying to use. The mitt is absolutely soaked in nail polish remover when you remove it from the sachet and as I was using it, the excess fluid got all over my hands and it STINKS! Plus, it only removed about six nails worth of polish before drying up and becoming unusable. Rubbish! Repurchase? Hell no.
What beauty products have you used up this month?