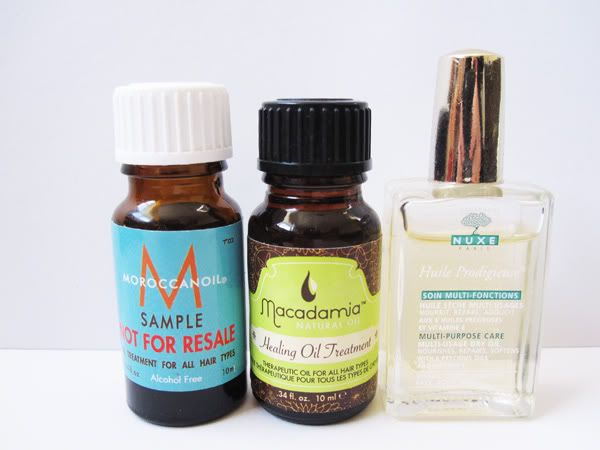 This time last year, I had never tried
hair oil treatments
before. The idea of putting any kind of 'oil' into your hair seemed so strange to me, surely it would be turn your locks into a greasy mess? Why was everyone raving about them? So I tried a couple and now I can't get enough of them! I thought I'd do a quick post on three of my favourites and explain how I use them and get them to work for me:-
Moroccan Oil
is
the
beauty classic of hair oil treatments, adored and used by countless women worldwide. I had always steered clear of it in the past due to its perfumed scent but it's one that has certainly grown on me. I received a sample 10ml bottle in a goody bag a couple of months ago and immediately had to try it. I use Moroccan Oil when my hair feels especially dry or is looking dull and unloved. The medium-thick oil consistency absorbs into the hair so well and never looks greasy or leaves any residue. I always use it after I've shampooed and towel-dried my hair, and then I'll either leave a tiny amount in my ends for an hour or so to deeply condition or for a shorter period of time before blow-drying. It always leave my hair feeling soft and looking healthy, plus the smallest amount goes such a long way.
Macadamia Oil
is like Moroccan Oil's little sister and I use it in the same way (on towel dried hair, mainly before drying/styling). The 10ml sample bottle shown above was obtained through a
Boudoir Prive
box. It's incredibly similar in many ways to Moroccan Oil; its oil consistency is pretty much the same, it delivers nearly identical results (if I'm nit-picking, I'd say that Moroccan Oil is ever so slightly more moisturising) and a tiny amount also goes a long way. The main difference is in the scent, with Macadamia Oil being much more subtle and not as lingering as Moroccan Oil, so sometimes I prefer using this one, and it's cheaper than Moroccan too.
Nuxe Huile Prodigieuse Oil
is not strictly a hair oil as such. It's an amazing multi-purpose dry oil that also works wonders on the skin and in baths. Nuxe is a much lighter oil in consistency and I only ever use this one on dry hair to smooth away frizz and add some nourishment and gloss to my lengths. The main trick with getting this to work in the hair is to just use a very small amount, rub it between your palms first and then smooth it over the lengths. Goodbye frizz! Nuxe is great for those in-between shampoo days and for when you're in a rush and have no time for styling. It also have the best scent out of all of these in my opinion, it simply smells amazing in a light and clean kinda way.
Do you use hair oils? Which ones are your favourites?