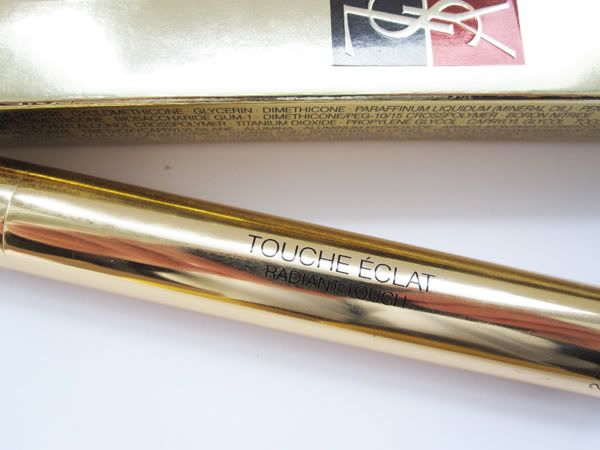 Quite possibly
the
most famous cosmetic item ever to be invented,
Yves Saint Laurent's Touche Eclat
is revered as the holy grail of all highlighters, or the 'magic clicky light pen' as us bloggers like to call it. From its luxe gold packaging to its light inducing liquid formula, it's no wonder that one of these beauty classics is sold somewhere in the world every 20 seconds and is the UK's number one luxury beauty product.
But what actually is this miracle product?
Firstly, it's
NOT
a concealer. A lot of people still seem to purchase this thinking it's a magic concealer but it's not! It's a
highlighter
. If you use it to try to cover up dark circles under your eyes, it's not going to work because it draws light
to
the areas of your face that you apply it. So if it's used as an under-eye concealer, it's only going to make it look ten times worse than it already is because you're drawing attention
to
your dark circles. The concealer association that Touche Eclat has seems to have only worsened in recent years, due mostly to the fact that there a myriad of copycat products out there which are specifically marketed as concealers. Touche Eclat is a highlighter and to get this product to work for you, should only ever be used as a highlighter.
How do I use it then?
Like any other highlighter, you use Touche Eclat to bring light to your face. It delivers that much desired radiant glowing finish to your makeup. Apply it to the top of your cupid's bow to make lips look fuller, at the inner corner and outer corner of your eye to make eyes look bigger and more awake, down the centre of your nose to make your nose look smaller etc. Easy!
Any downsides?
Although the original shade (No.1 swatched above) is the one that is spoken of the most, it won't suit all skintones, which is why YSL launched new shades last year, so always make sure to pick one that will work with your skintone. Aside from that there's really only the price tag which is around £25, and the fact that it's hard to tell when the pen is running out.
£25 is too expensive for me, are there any cheaper alternatives?
There are LOADS of wannabes, many of which are primarily concealers and not really ideal highlighters. However, I have tried (and still use quite regularly) The Body Shop's Lightening Touch pen which is a great hybrid product. It gives you the benefits of a highlighter, as well as being able to use it for concealing undereye circles too. It's priced at £14 which is a more affordable option.
What do you think? Do you use Touche Eclat or a similar product?