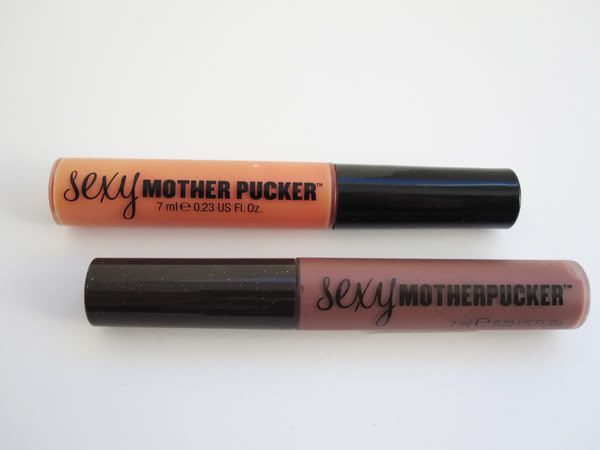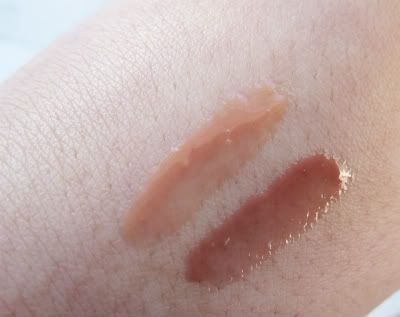 Soap & Glory
are a brand that has some real winners in its skincare range. Their
Hand Food
hand cream has been a staple budget beauty buy for years, and
The Righteous Body Butter
regularly features in many bloggers favourites lists. They're also gaining ground with their make-up line and I decided to try out one of it's most talked about cosmetics, the
Sexy Mother Pucker Lip Plumping Gloss
. I tested Pink Apricot (a natural looking peachy pink) and Nude (a very sheer nude brown), swatches above. The colours are sheer, formula is super sticky but they do have a pleasant chocolate orange type scent. They retail for about £9 each but you can usually get them much cheaper in 3 for 2 offers/sales at Boots etc.
As the name suggests, this is a lip plumping gloss, which has a special formula to get those lips looking BIG. The exact 'science' that Soap & Glory use in their description of the product below,
"
Extreme formula lip plumping gloss, with scientifically-proven plumping microspheres that explode in volume up to 10x when they come in contact with water. (They're like tiny, dehydrated little sponges that expand when you apply them onto your lips). Soap & Glory have also formulated Sexy Mother™ Pucker with a rare circulation enhancing ingredient that gives your lips a little 'electric' buzz, to move more blood around the area, creating the swelling effect mentioned above
."
So does it work? The verdict:
Not really! Well, I didn't notice much of a change, certainly not enough of a plumping effect to warrant it being shown in photos. However, I certainly got the 'electric buzzing' sensation which was AWFUL. I've tried plumping glosses in the past and can handle a mild tingling, but this was something else. The sensation lasted for nearly 15 minutes as well and immediately after it stopped, I quickly checked in the mirror to see if there was any extra fullness to my lips, and went and scrubbed it off! To add to the over the top sensation, the glosses are incredibly sticky and wouldn't come off with just water. For me personally, these are a definite miss.
Have you tried these? What did you think?