I hope everyone had a great New Years! I'm a bit late doing this post due to the festivities, so here are my beauty favourites from last month:-




Barry M Translucent Powder in Medium - One of the best budget friendly (I think this was under £6) powders I've tried so far. It's finely milled and absorbs excess oil from the face to leave your make-up set and matte. Plus it's packaged in a generous size compact with a huge mirror. Elf Studio Line Cream Eyeliner in Black (swatch) - My new go-to eyeliner! Easy to use, with good pigmentation and staying power. Unbelievable that this is just £3.50! Japonesque Travel Size Smudger Brush - The perfect shape and size for doing a quick smokey eye with soft bristles. Barry M Lipgloss Wand in Toffee (swatch) - My new favourite nude lipgloss, so pretty for wearing everyday and non-sticky. Cargo Cosmetics Classic Lip Gloss in Tokyo - Another non-sticky, everyday colour that I've been wearing a lot since receiving in last month's Glossybox.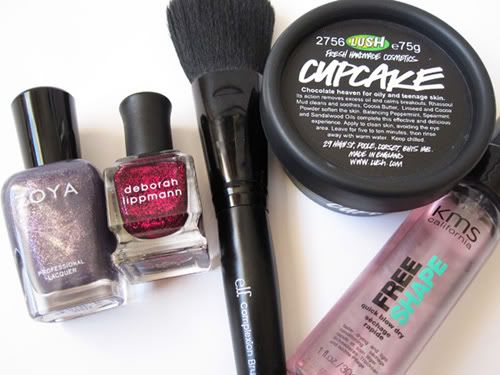 Zoya Nail Polish in Zeeka (NOTD) and Deborah Lippmann Nail Polish in Razzle Dazzle (NOTD) have been my recent favs for my nails. Elf Studio Line Complexion Brush - Another budget favourite, this brush really is perfect for applying any kind of loose powder and has the absolute bargain price tag of £3.50! Lush Cupcake Fresh Face Mask - I've been raving recently about this face mask and would recommend it to anyone with troublesome oily/combination skin. KMS California Freeshape Quick Blow Dry Spray - I wasn't all that excited to try this when I first saw it in my Carmine box, but I popped it into my travel bag and tested it out over the holidays. WOW! It really does cut your blowdrying time in half and left my hair wonderfully frizz free and soft without any product residue. Amazing stuff!

What were your beauty favs for December?