A round-up of the books I've read this month. I did start the first two back in December which explains why there is quite a few this time round:- 11/22/63 by Stephen King - I haven't been all that keen on King's non-horror ventures in the past, so I was a little sceptical about his foray into time-travelling with 11/22/63. I mainly picked it up because I was interested in what his take would be on the Kennedy assassination and I wasn't disappointed. Yes, some parts could have been edited out without losing much to the story (this is another of his 'thick' books), but for the most part, this was a gripping thriller that transported me straight into 60s America. Moloka'i by Alan Brennert - This was a fascinating book. It's centered around a young girl called Rachel who is suspected of having leprosy and sent away to live on a nearby leper colony. The place and setting of Moloka'i is incredibly vivid; you can really imagine yourself on this island and eating the local food etc. The characters are interesting and the story is gripping in an emotional but heartwarming kind of way. I also enjoyed the political undertones about Hawaii in the time before the 21st century.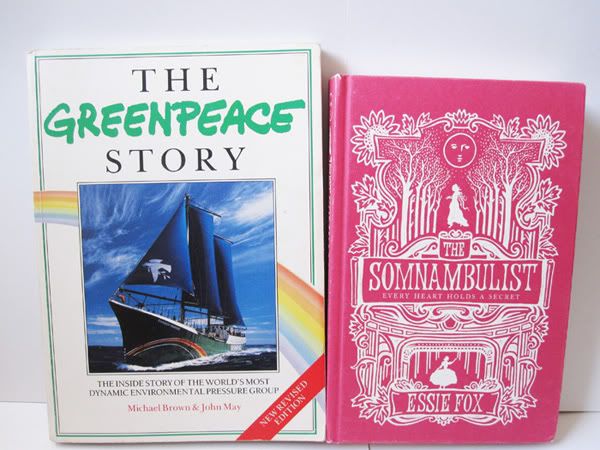 The Greenpeace Story by Michael Brown & John May - An interesting and comprehensive book which covers the story of how Greenpeace was founded in the 70s right through to its ongoing global presence in 1990. All of its highlights are detailed here, such as it's high profile campaigns which brought about real tangible change in legislation around the world, as well as its low times, which include the dramatic bombing of the Rainbow Warrior ship by French spies. It's a really inspiring read laid out like a scrapbook and filled with photos. The Somnabulist by Essie Fox - *Won via Goodreads Giveaways* A light and fun read, one of those books that you can get through really easily. It's a 'gothic' mystery set in Victorian times. The writing is generally good throughout, but the many mysteries and family secrets that the story is based around are very predictable and the characters are a little bit too overly cliched for my liking. Still, it served its purpose of keeping me entertained.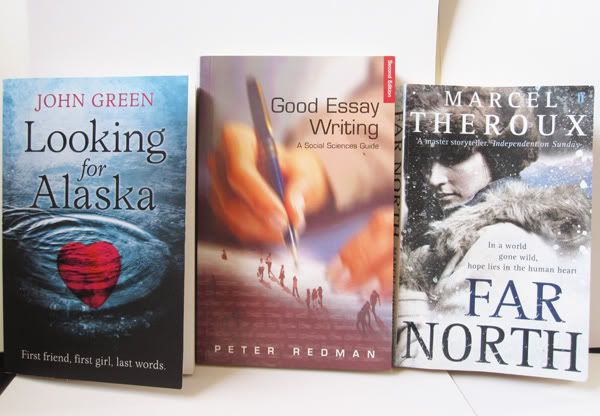 Looking For Alaska by John Green - One of the most emotional coming-of-age novels I've read. I loved the protaganist Miles, this young boy who doesn't have any real friends and goes off to a private school in search for his 'Great Perhaps'. He becomes best friends with his roomate and falls in love with a rebellious girl called Alaska, but it all ends in tragedy, awww! For a YA it's pretty damn good and I'd recommend it to anyone and everyone. Good Essay Writing: A Social Sciences Guide by Peter Redman - I picked this up because I've always struggled with writing essays and it came highly recommended by OU students. Whilst this covers everything you need to know about structure, what tutors are looking for etc, I find that it seriously overcomplicates itself. If you're looking for essay tips, you'd be better off getting a copy of The Good Study Guide and reading the writing chapters in that. Far North by Marcel Theroux - Wow, this book is seriously good! I was absolutely hooked from the beginning and couldn't put it down. It's a brutally realistic story following the main character, Makepeace, and her struggle for survival in a bitter post-apocalyptic world. It's bleak, depressing and disturbing, so of course I instantly fell in love and must declare it as one of my all time favourites. If you'd liked the solitude of The Road, but wanted some more flesh to the story, then you'll probably love this.




Last Exit To Brooklyn by Hubert Selby Jr - It may be because I've read so many typically 'violent' books already, that I've become somewhat desensitized to a lot of it, but I found this difficult to get into. The 'tell it like it is' prose began to grate on me right from the start. The story itself describes the very worst of people and how their despair quickly escalates into hellish situations, but I quickly found it tiresome. The Secret History by Donna Tartt - I loved this book, so many people have recommended this to me over the years so I'm pleased to have finally finished it. The story is fantastic, I loved the setting, the characters, everything! The only reason why I wouldn't call it an all time favourite is because it's just so damn long that I don't think I'd ever re-read it personally, but it's a great book and one I seriously recommend everyone to read at least once.

Have you read any good books this month?