Here are my beauty empties for this month and whether I would choose to repurchase them or not. The Body Shop Coconut Body Butter - Have used this for years and it's still a firm favourite of mine. Definitely one that I enjoy using in the colder months because it's so thick and moisturising. Repurchase? Yes. Crystal Spring Salt Of The Earth Deodorant Spray (review) - I made the switch to all natural deodorants about a year ago and have mostly been using this brand. It's fragrance free and works great, no problems at all! Repurchase? Yes. Cowshed Cow Pat Moisturising Hand Cream - Received this when it was free with a magazine and although I've liked other Cowshed products, I didn't think much of this. It wasn't particularly moisturising in my opinion. Repurchase? No. Ceteum SCR Gold Creme De Lite - From a Boudoir Prive box, this smelt awful like talcum powder or something! Didn't rate it much as a moisturiser either. Repurchase? No. Lush Glogg & Snow Fairy Shower Gels - I love these, they smell so good. Repurchase? If they bring them back this year, then yes!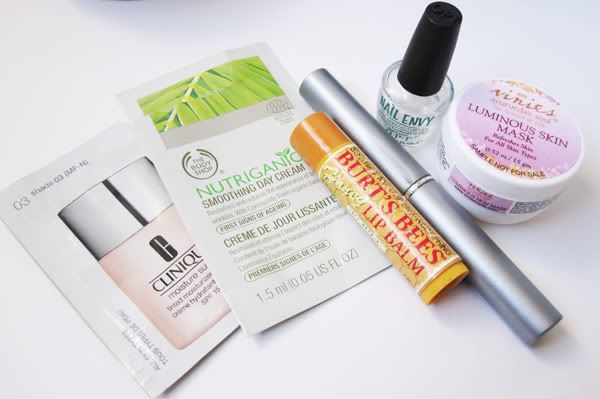 Clinique Moisture Surge Tinted Moisturiser in Shade 03 - Really liked this, has more of a foundation formula than a traditional tinted moisturiser but it was really good and non-greasy for my oily/combo skin. Repurchase? Yes, will get a full size when my current foundation has run out. The Body Shop Nutriganics Smoothing Day Cream - Didn't like this much, don't think it's right for my skin. Repurchase? No. Burts Bees Honey Lip Balm - One of my all time favourite lip balms, like ever! I always end up going back to this and usually have a spare one around somewhere. Repurchase? Yes. Witch Concealer Stick - I do like this for covering blemishes but will probably try Collection 2000's Lasting Perfection next. Repurchase? Probably not. OPI Nail Envy Mini - Another product that I do like (review) but I've switched to using Trind for now. Repurchase? Maybe. Vinies Luminous Skin Mask - That face mask from Boudoir Prive. I thought it was OK but nothing amazing and the smell was a bit too off-putting for me. Swapped the other sample pot. Repurchase? No.

Have you used up any beauty products this month?