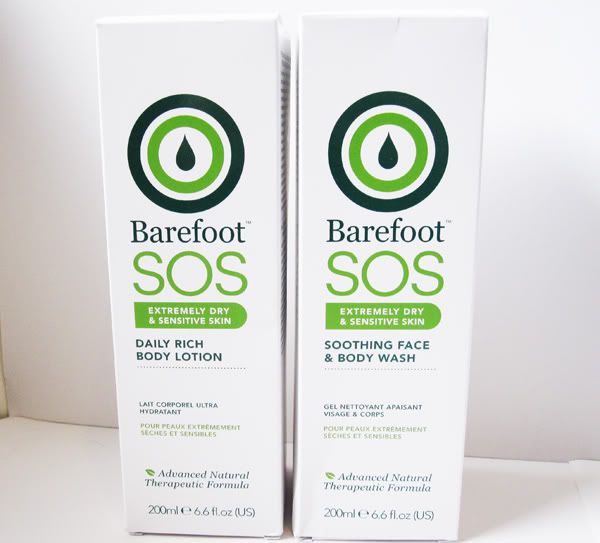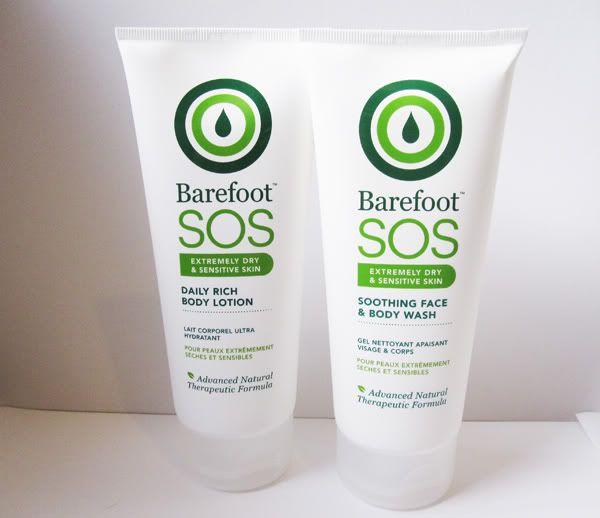 I was lucky enough to win these
Barefoot Botanicals
products in a giveway hosted by the lovely
Beauty Passionista
. As Britain embraces this recent frosty cold snap and plays havoc with dry skins everywhere, I thought it was the best time to put these two products to the test. Barefoot Botanicals have developed a special SOS range which is specifically targeted towards those with extremely dry and sensitive skin, as well as sufferers of eczema and psoriasis. Their natural therapeutic formulas are free from synthetic chemicals such as paraffin, parabens, SLS, as well as artificial colours, fragrances and animal ingredients. My skin does have flare ups of eczema from time to time and definitely dries out in cold weather, so I was more than happy to win these products to try out.
I received the
Daily Rich Body Lotion
which has a whole host of skin soothing ingredients such as Shea Butter, Jojoba, Argan & Macadamia Oils, as well as pure essentials oils of Orange Blossom & Lavender which makes this cream smell subtly gorgeous. If you've ever had to use eczema creams from a chemist, you'll certainly appreciate the smell of this one instead! The formula is nice and light, absorbs into the skin quickly and soothes any dry areas and irritation really well. I have always used Lush's Dream Cream when my skin has gotten bothersome in the past, but I definitely like the scent of this better. I also received the accompanying
Soothing Face & Body Wash
which is a creamy (has the same consistency as the body lotion), non-foaming cleanser that can be used all over. Its ingredients feature Evening Primrose & Jojoba Oil, Burdock Botanical Extracts, as well as pure essential oils of Geranium & Lemon Tea Tree which give it a refreshing scent. It's a simple, yet effective and gentle wash that will get you clean without upsetting your skin. My only criticism is that you have to use a lot of the product to wash with so the 200ml might not last as long as you think it would.
Summary:
If your skin is being aggravated by the cold weather and you're looking for all natural products that work, then I'd certainly recommend these two from Barefoot Botanicals. They are quite pricey (the body lotion retails for £18.70, body wash £13.60) but they worked for me in this cold weather, so they might work for you too.
What are your winter skin saviours?