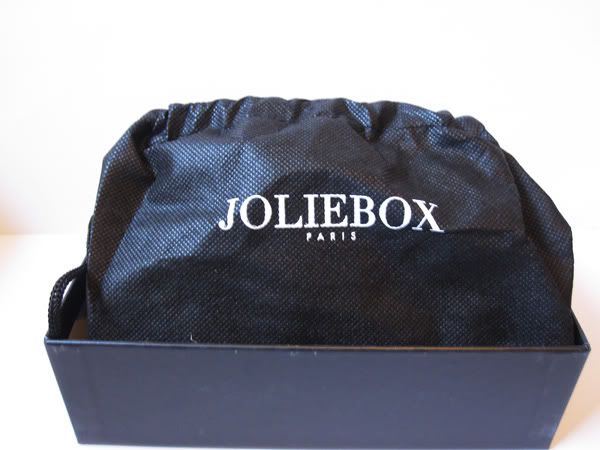 The Boudoir Prive merger with France's Joliebox excited many in the blogosphere, especially when Joliebox UK announced that there wouldn't be a box for January so that they could devote full attention to the contents of future boxes. Finally, after a great deal of waiting and numerous rumours, the new Joliebox has landed! Before I move onto the contents, let me mention the repackaging, or rather the addition of a black drawstring bag in the box. I don't really get the purpose of it. What the hell am I supposed to do with it?! Anyway, was this all worth the wait?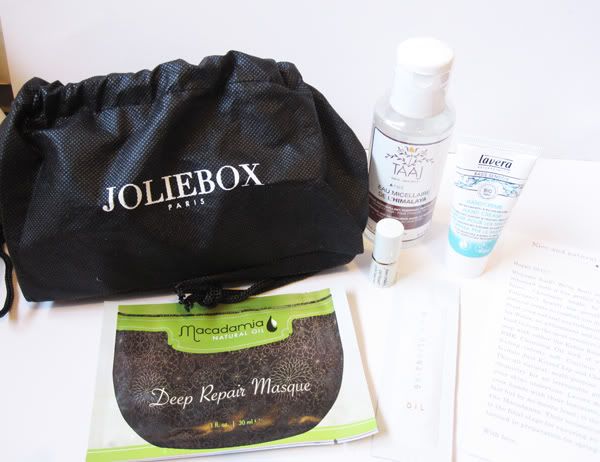 The contents!




(1) Taaj Himalaya Micellar Water, 100ml - "An antioxidant and tonic makeup remover that will revitalise and purify skin" - This smells nice and is basically a high end makeup remover that has natural water from the Himalayas as one of its key ingredients. It probably couldn't have come at a worst time for me as I've recently fallen in love with Liz Earle's Cleanse & Polish, and if you've tried that, you'll know that it's not only an incredible cleanser, but also removes every single trace of make-up. However, I'm sure I will try this out at some point and I like how it's paraben free and suitable for sensitive skin.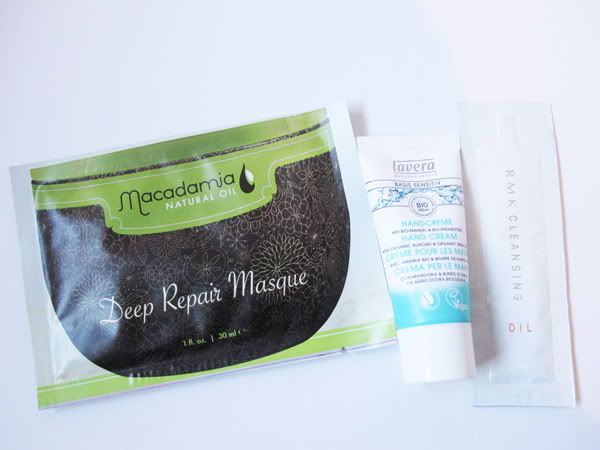 (2) Macadamia Deep Repair Masque, 30ml sachet - I've been eyeing this up for some time, so I was happy to receive this and I'm looking forward to using it. I imagine I'll be able to get two uses out of this sample. (3) Lavera Hand Cream, 20ml handbag size - This is the same hand cream that I received in this Latest In Beauty box. I haven't tried it yet as I'm using up my beloved L'Occitane Shea Butter one, but it will be useful for keeping in my handbag. (4) RMK Cleansing Oil, 3ml sachet - Japanese brand which I've heard good stuff about, but I do think sachets for things like cleansers a bit useless as you can't get a good enough feel for them. That said, I will use it up and see what it's like.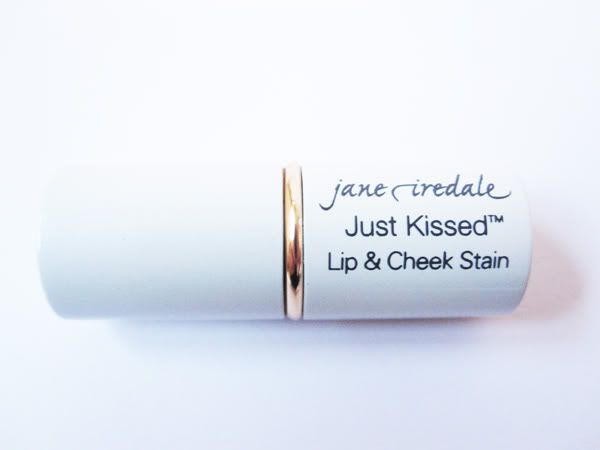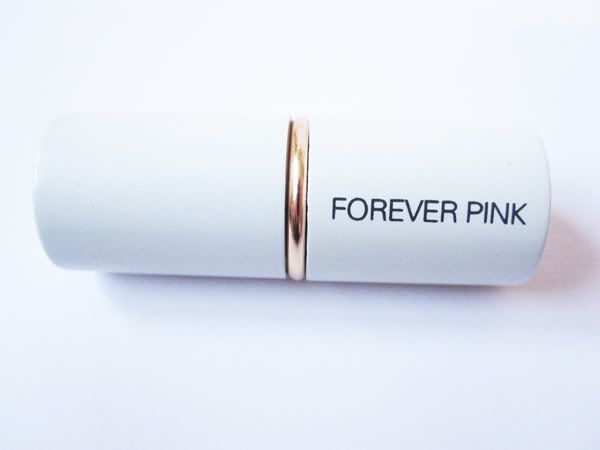 (5) Jane Iredale Just Kissed Lip and Cheek Stain in Forever Pink, trial size - "An all natural, multi-purpose stain that adjusts its colour to your mood and temperature" - I love the smell of this, it's like fruity sweets! It is absolutely tiny though, see the size comparison below:-




Anyway, I've tried it on my lips and it delivers a very pretty and flattering wash of pink. It's weird seeing it change colour and on me, it looks darker the hotter I feel (for example, I was out in the sunshine today and it turned to a deep fuschia pink!). Not sure I would want this effect on my cheeks, but I'll definitely use it on the lips.

Summary: I think the long wait was a MAJOR letdown. Although I will end up using everything in the box, I don't think there are any amazing standout products, and certainly nothing in my opinion makes this box special in any way. It's 'OK' at best, and I can imagine a lot of people being deeply disappointed with it. The value of the contents is pretty poor too, and I'm sure many will agree with me when I say that I'd rather have better value products in the box over an additional wasteful drawstring bag. I have always been excited to receive Boudoir Prive boxes and the very first Joliebox in December was incredible, but this just wasn't all that great.

Did you receive this box? What are your thoughts? Was it worth the wait or not?