As there was no Joliebox for January, I decided to treat myself to a box from Latest In Beauty. LIB do these great 'themed' boxes every few months, and their main selling point is that you can see what you're going to get before you buy. These are perfect for people who want to try out beauty samples, but aren't fond of surprises, or perhaps have allergies to certain ingredients etc. The current themed box on sale at the moment is the one that I bought, and it's called 'The Refresh and Recover Box' which is £6.95 with free postage. As its your typical detox/new year theme, there is a mixture of beauty samples & supplements which reminded me a bit of the US Eco Emi boxes. Here's what was inside:-




Teapigs Tummy Tonic - one tea temple, is a pure peppermint tea which helps to settle overindulged tummies. I use Teapigs teas a lot because they are an ethical/eco brand and their teas are absolutely delicious. Cosmetofruit Chile Luxurious Hair & Nails, 30ml - I was most intrigued by this little bottle which calls itself a 'beauty drinkable elixir'. It has a 'PhytoNutr-A-Berries Complex' (fancy!) which helps to regenerate and strengthen cells for soft and healthy hair and nails. My only verdict on it so far is that it tastes like sour undiluted Ribena, but I'll no doubt finish off the bottle. ActMint Probiotic Supplement, x 3 - these little mints have probiotics to help aid healthy digestion, so I'll definitely try one of these out after dinner.




Onto the beauty samples, I received a 20ml Sun Shots SPF25 sun protection cream which I thought was a little strange but maybe aimed at those lucky people going away for some winter sun? Have popped it into my suitcase anyhow for the time being. There was also a Lavera Hand Cream, 20ml, which is a nice size to pop into handbags and smells good too. The little vintage inspired tin is a Figs & Rouge Sweet Geranium Balm which is 100% organic and multi-purpose. I always have some type of multi-purpose salve in my bag so I'm looking forward to trying out this one. Lastly, I got a Monu Soothing Touch Recovery Balm, 5ml, which is more like a cream than a balm, but feels very good on the skin.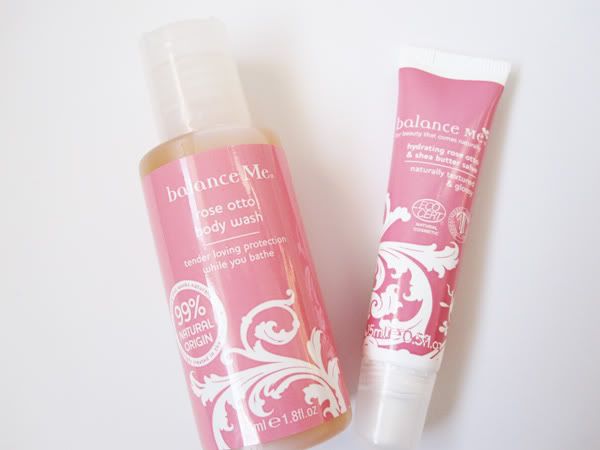 In addition to the above, you can choose any two luxury samples at no extra cost, to add to your box. Last time I looked, there were brands like Cowshed, This Works, Burts Bees, Clarins etc to pick from so there was a good range. I chose the Balance Me Rose Otto Body Wash, 55ml which smells lovely and the Balance Me Hydrating Rose Otto & Shea Butter Salve, full size 15ml to try out.

Summary: I'm pleased with this box and the contents. The customer service from Latest In Beauty was pretty good too when I had a card query, and the box itself arrived promptly. I think these are great little treats for when you want to try out a few things, but don't want to commit to a regular beauty box subscription. I also bought the special YOU box from LIB and will post a review of that when it arrives :)

Do you like this box? If you sub to a beauty box, would you prefer to know what contents you're getting or do you like the surprise?