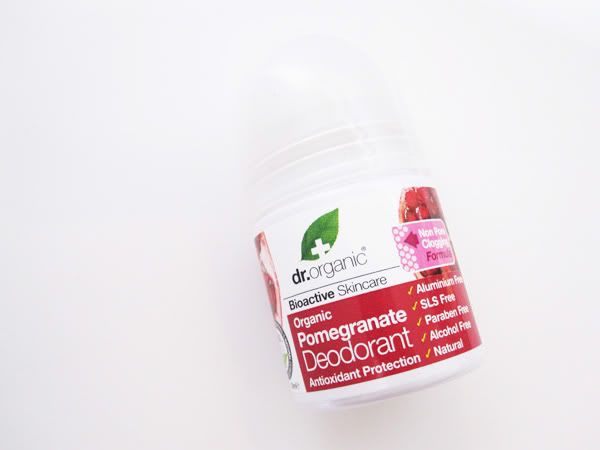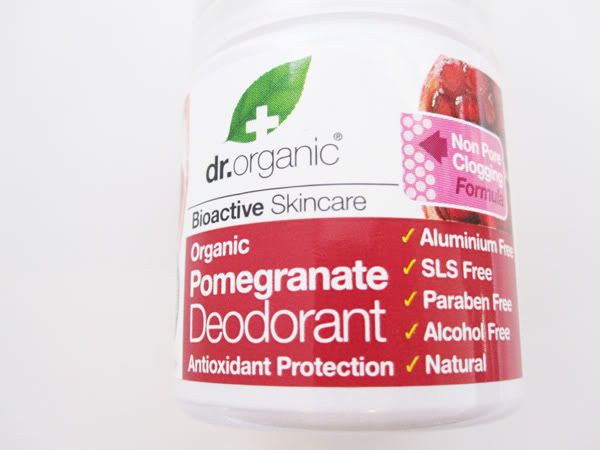 I made the switch to more natural based deodorants a few years ago and had mainly stuck with my trusty Crystal Spring deodorant which is fragrance free. For a change, I picked up the
Dr Organic Pomegranate Deodorant
to try out and have been road testing it for a few weeks. My main two reasons for buying this was that it was pretty cheap for an organic deodorant (these retail for about £4.29 for 50ml) and it smelt
incredible
. Honestly, I could not stop sniffing this in the shop and had to refrain from purchasing the entire Pomegranate range by Dr Organic. If you have a Holland and Barratt near you, pop in and have a sniff of this range, it's seriously amazing!
Onto the deodorant itself, it's a liquid cream based roll-on that is free of Aluminium, SLS, Parabens and Alcohol, as well as artificial colours, fragrances and preservative. The active and organic ingredients come from Pomegranate, Aloe Vera, Icelandic Moss, Vitamin E and Sunflower Seed Oil. The main thing to remember about natural based deodorants is that they won't stop you from sweating as they're
not
antiperspirants. I don't think it's very good for your skin to block it with chemicals to stop it from doing its natural function of perspiring, which is why I use these deodorants instead. Natural deodorants will however eliminate odour
from
your sweat, so don't worry, you're not going to be walking around reeking of BO! The deodorants from Dr Organic all have a non-pore clogging formula and I found this very effective. As it's a natural liquid cream roll-on, on application it is wet of course and does take a little time to dry. I don't find this a problem for me personally, as I always apply deodorant straight after a shower, so by the time I've put on my body lotion and everything else, it's dry and fine for me to get dressed. You can however speed the drying time up with a quick blast of your hairdryer if you wish.
Protection-wise, I found it worked well throughout the day without needing to be reapplied, but I did need to reapply it if I did some exercise (which seems normal for most conventional deodorants too). It doesn't irritate my sensitive skin and can be applied straight away after shaving with no stinging at all. But the best thing about this deodorant is the scent. I can smell it subtly throughout the day and it's so nice. Lovely, fresh and feminine, perfect!
Have you tried any natural/organic deodorants?