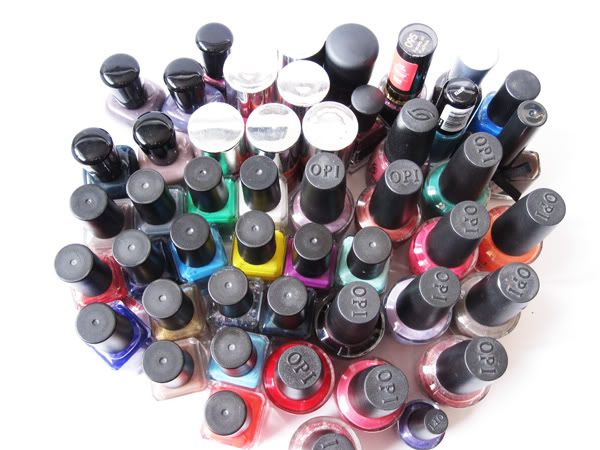 Spotted this Nail Polish Addict Tag on Gaby's blog that is doing the rounds at the moment and thought I'd post it along with some of my own polish p*rn for you all to admire.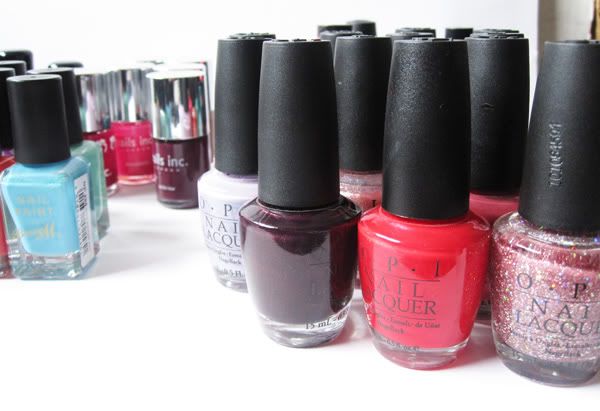 1. What's your favourite nail polish company?
I'm torn between a few, but my absolute favourite would probably be OPI because I always want something from their new collections. I like their formulas, their often silly yet quirky names and they're a brand that seems to be able to collaborate successfully with celebrities time and time again.

2. 2. Glitter or no glitter?

I'm a total sucker for anything glittery so I personally love it, even though it's a pain to remove!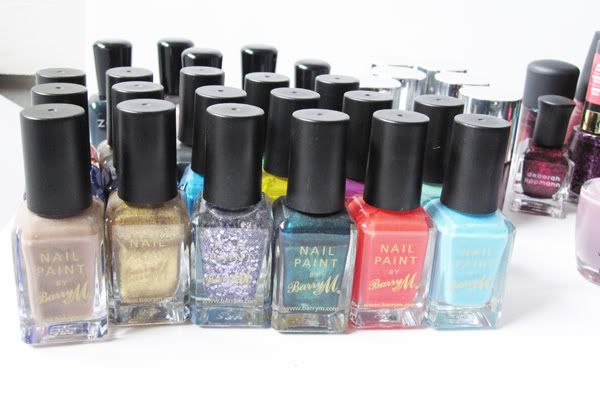 3. OPI, China Glaze, or Essie?

Have tried all three and going to say OPI again. However, I do really like China Glaze and Essie a lot too, I just have a lot more OPIs currently in my collection.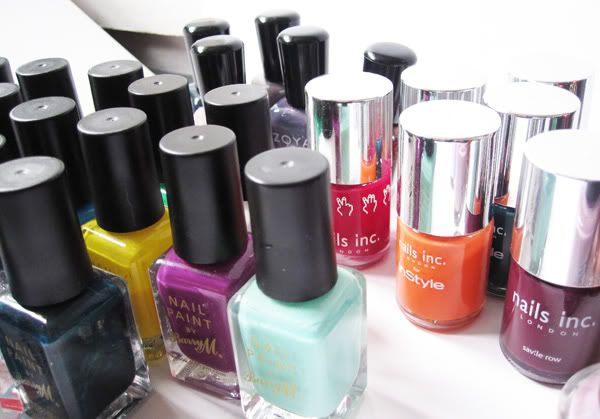 4. When do you change your nail polish?

When the mood strikes me. I'm sometimes fickle and will wear a colour once and take it off the next day if I see something else I'd rather wear. But at the same time, if I'm wearing a polish that I really love, then I have been known to wear it constantly for like two weeks.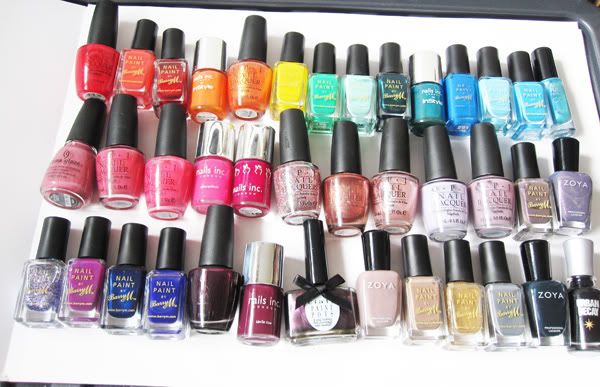 5. What's your favorite color on your nails?

I can't pick one, I have too many joint favourites to choose from! Some of my all time favs include OPI Parlez-Vous OPI?, OPI Jade Is The New Black, OPI Black Cherry Chutney, Barry M Racing Green, Barry M Coral, China Glaze Fifth Avenue, Nails Inc Shoreditch, MAC Formidable!, Zoya Jem.




6. Darks or brights?

I love both and probably wear them in equal measures. Only thing I will mention is that I only like brights on my toes.

7. What are you wearing on your nails right this moment?

Still wearing OPI - Lucerne-Tainly Look Marvelous but will probably scrub that off later and pick something else for the weekend.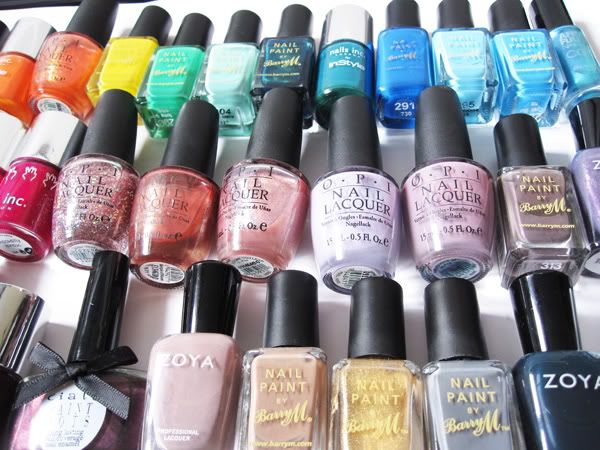 8. Matte nails - in or out?
It's not a trend that I've experimented much with. I bought a couple of matte nail polishes from MAC when they were being heavily hyped but I don't remember wearing them for long. I mainly just want to put glossy top coats over mattes which kinda defeats the object a bit!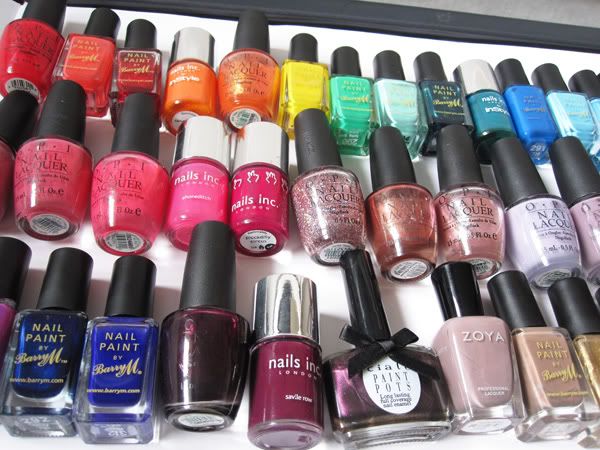 9. French manicure?

It's not a look I'm personally fond of as it brings up images of WAGs and Jordan for me, but I think it can look OK if the nails are kept short and neat.

10. Favorite Summer Colours?
Probably corals, oranges and bright pinks!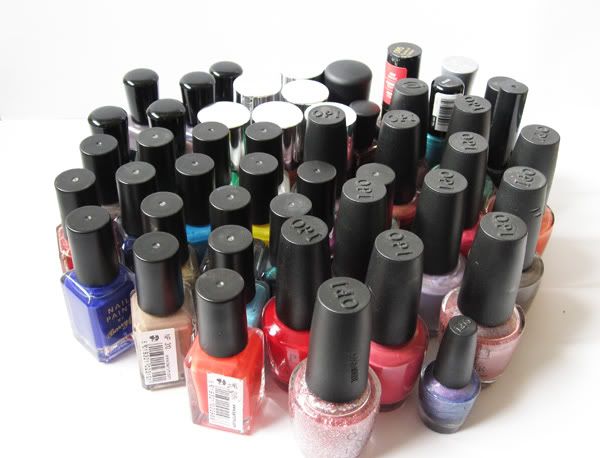 P.S This isn't all of the nail polish that I own. Oh no. Embarassingly enough, there's a lot more including various dupes and things that I haven't had the heart to let go of yet. One day I'll sort it all out eventually, I promise! For now, the photos above are my 'main' polishes that I use the most of.

And while I'm here I'll quickly post this 11 Questions Tag from Helena's Edge Of Beauty blog:-

1. What is your favourite MAC Lipstick?
Shy Girl definitely, so easy to wear and seems to look great on lots of skintones.
2. What is your favourite foundation?
At the moment, it's Bare Minerals Original Foundation in Medium Beige.
3. What is your favourite blog?
Eeeek can't pick one! Check out the Daily Reads list in the sidebar for starters :)
4. Iphone or Blackberry?
I seem to be in the minority but you can't pry me away from my BlackBerry just yet.
5. What is your favourite brand for blush?
MAC or NARS
6. What do you order at Starbucks?
Iced Caramel Macchiato or Iced Vanilla Chai Latte, though I do fancy the frappuccinos every now and again.
7. What is your staple wardrobe piece?
A black leather biker style jacket that fits well.
8. What trend do you most dislike?
I don't get those Crocs! Why?!
9. What is your favourite perfume?
Not a big perfume wearer, but one that I do wear occasionally is Flower by Kenzo.
10. Who is your favourite actress?
I have a few, love Abbie Cornish, Eva Green, Jennifer Connolly & Rachel McAdams.
11. What is your favourite high street store?
Zara, always has nice stuff and finds a good balance between being 'on trend', but without making you look like you're 14.

I tag anyone who wants to do either of these :) Have a good weekend!