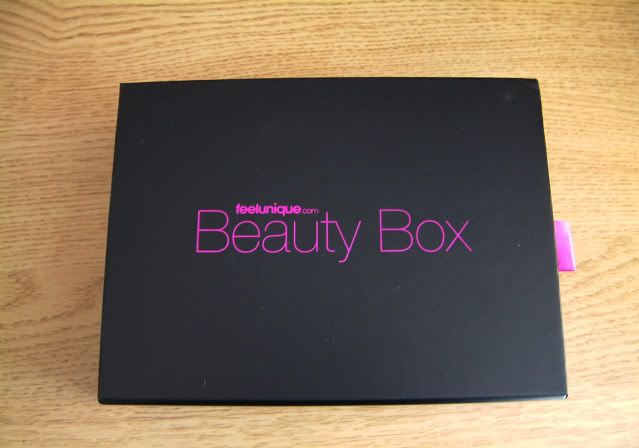 A few weeks ago I signed up to

Beauty Box (from Feel Unique.com)

, one of the (soon to be, no doubt!) many competitors to Glossy Box. Beauty Box operates in a similar fashion, and I was won over by the enormous list of brands involved, especially by the more purported natural/eco brands that I like. In each monthly box, you receive 5 deluxe beauty product samples for £9.95 with free postage (

for now

) and you can cancel your boxes at any time by phoning Feel Unique's 0845 rate number. This is the first Beauty Box to be released and I was excited to see what would be included and to decide whether I'll continue subscribing or not.



Packaging:

Beauty Boxes are posted by Royal Mail 1st class and come from Jersey (tax exemptions I'm guessing?). I received a dispatched email on Wednesday and it arrived today. It's sent in a plain generic cardboard box with a pink 'Fabulous Darling' sticker on it.

The Beauty Box itself is a matte black, very sturdy thickish card box. It has a purple side pull and can be opened like a drawer. Very nice! I can see myself re-using this and I imagine if you're going to be a long term subscriber, you could stack them all up.




The goodies! Everything was cushioned with zig-zaggy black paper bits.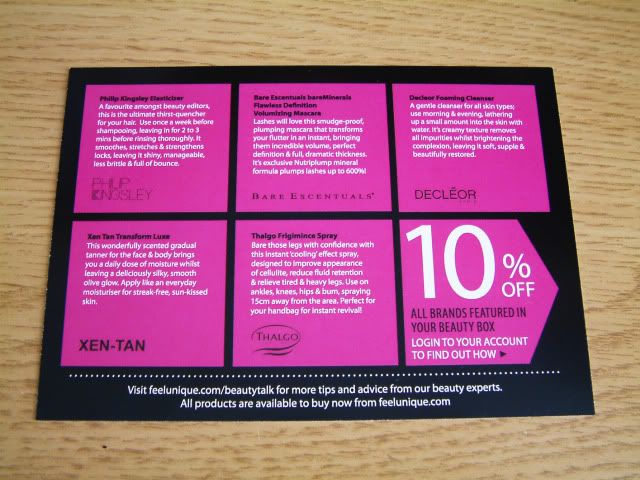 Like Glossy Box, it comes with a card describing each of the products and gives you a 10% online discount code for purchasing the full size items on Feel Unique's website.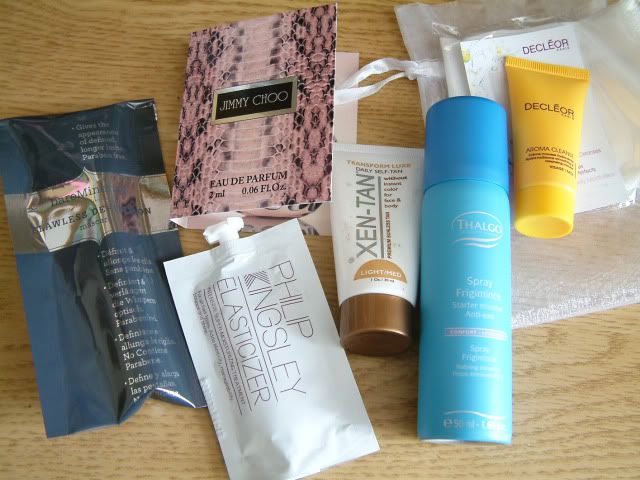 Here's what I received:



1. Philip Kingsley Elasticizer (20ml sachet)

- intensive super-moisturising treatment for all hair types. A 75ml tube retails for £14.
I love hair masks so I'm excited to try this.



2. Xen - Tan Transform Luxe in Light/Medium (30ml tube)

- premium sunless tanner for face and body. 80ml full size is £18.95.
I have natural olive skin so I never use self tan products. I'll be swapping this with a paler friend. Odd how they chose to include this in the first box, considering that Glossy Box had the exact same product last month?

3. Bare Escentuals bareMinerals Flawless Definition Volumizing Mascara (5ml) - paraben free, plumps lashes up to 600%. Full size 10ml retails for £12.75.
As a mascara junkie, I was super pleased to get this! Looking forward to trying it out.



4. Thalgo Frigimince Spray (50ml spray can)

- instant cooling effect spray designed to improve the appearance of cellulite, reduce fluid retention and relieve tired & heavy legs. 150ml full size can is £27.
This smells HORRIBLE. It's extremely menthol scented so it smells like liquid Lockets sweets which I hate. I won't be using this purely because of the smell and I don't use these kinds of products anyway as they never work nor live up to their claims.



5. Decleor Aroma Cleanser (15ml tube with 1 muslin cloth)

- gentle cleanser for all skin types. Full size 100ml £24.25. I'm currently using up a Clinique cleanser which has started to dry out my skin, so I'll switch and try this out soon.

6. Also included as an extra, was a

2ml spray sample of Jimmy Choo Eau de Parfum

. I'm not a big perfume fan so I'll be giving this away, but I am glad that they included it as an extra and not as one of the five products. This was one thing that annoyed me about Glossy Box was how they included perfume samples as one of the products, when they're the easiest things to obtain from any beauty counter for free!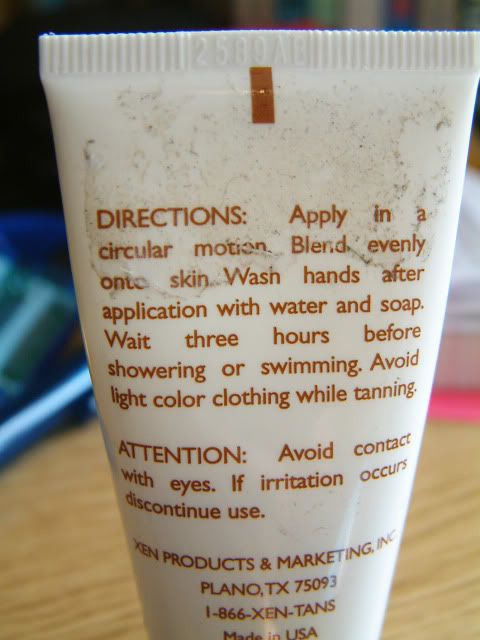 Only downside: erm what the hell is all of that gluey residue gunk? Quality control fail and

not

sexy :(

What I like about Beauty Box: Good packaging of the box itself, like the drawer concept a lot. Pleased with nearly all of the products and thought that they were decent sample sizes. I especially liked how the full size products (other than the silly Thalgo spray) were

reasonably

priced. Happy that the perfume sample was an extra.

What I dislike about Beauty Box: Quality control needs checking but other than that I don't have any real complaints.



Overall thoughts on Beauty Box and how I think it compares with Glossy Box:

Although it doesn't have the initial WOW factor that Glossy Box does with its pretty pink packaging and cute crowns, Beauty Box does what it says on the, well, box. I was expecting something a 'bit more' wow with BB's first box though, a bit like Glossy Box with their full size Nars Illuminator, something that would get people talking about it but they certainly haven't gone in for any hype. Also in comparison with GB, BB did not include any full size products. I'm not disappointed with what I received, but I do think Glossy Box offers more for your money (even with the postage increase) and feels more like a special treat than BB does. I'm not sure yet whether I'll continue my subscription with Beauty Box because I want to try out Boudoir Prive and then I'll pick one out of those three to continue with.