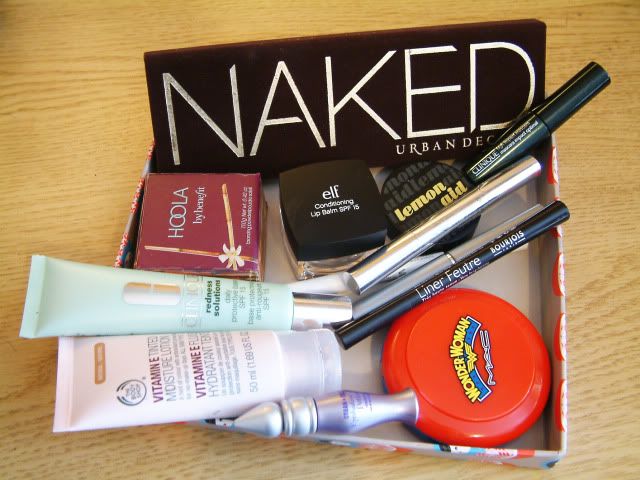 Whilst clearing out some old magazines, I came across an article which stated that the average woman uses, on average,

over 20 different make-up products on a daily basis

. Over 20 different products?! That seems like a huge amount, but is it really? I decided to look into this theory by compiling my own list of make-up products that I personally use for an 'everyday look'. Below are some of my regular favourites, as well as one or two new items which I'm testing out.




For everyday I tend to stick to a neutral look, so I start with applying a bit of


(1) Benefit's Lemon Aid

over my eyelids with my fingers. I've used this product rather religiously over the last couple of years because it instantly makes me look more awake and one little pot lasts a long, long time. Next, I'll dab on a little of

(2) Urban Decay's Primer Potion

and whilst that dries, I'll fill in my brows with

(3) Korres Eyebrow Pencil

in 1/Dark Shade. Under my eyes, I'm currently using

(4) The Body Shop's Lightening Touch concealer pen

in shade 3, which is their version of YSL's Touche Eclat. It's a decent concealer which does the job, but if you apply too much or don't properly blend, then it has that annoying habit of settling into fine lines. I'll probably try out a different brand once this one has been used up.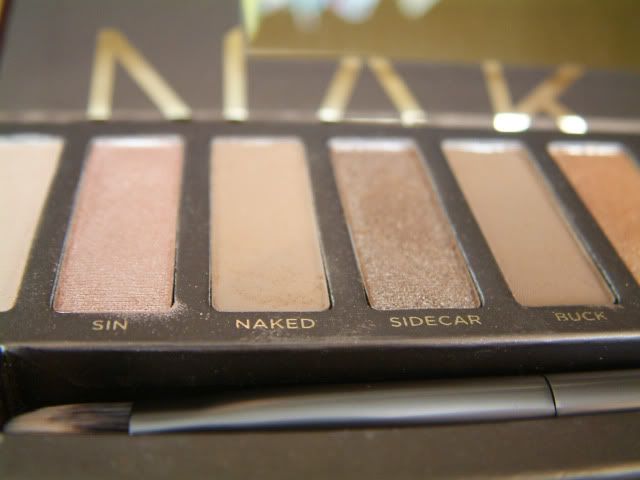 On my eyes, I'll probably use two shades of eyeshadow;

(5) an overall lid colour

and then

(6) a darker one for the crease

.

Urban Decay's Naked palette

is still the best thing ever. I mainly use Virgin, Sin, Naked, Buck, Smog and Toasted for everyday looks.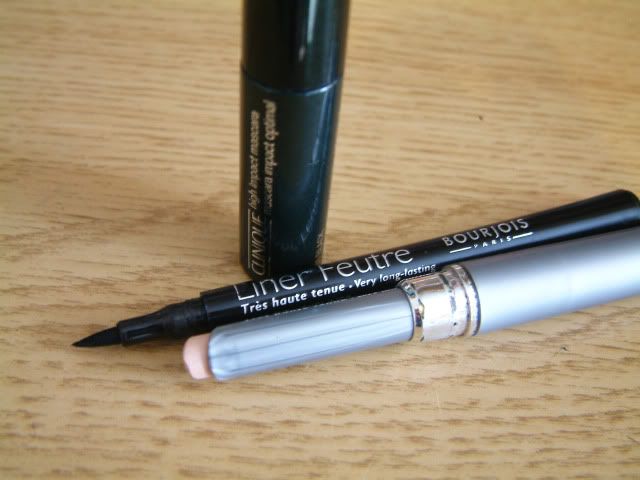 I always wear some form of

(7) eyeliner

and was given

Bourjois' Liner Feutre felt-tip eyeliner pen

in 11/Noir recently by a friend. I haven't decided whether I love or loathe this yet. It's amazingly pigmented, a 'proper' black and doesn't smudge at all, UNTIL it gets wet and then it's one great big mess. Hmmm. I'll probably stick to my old faithful Urban Decay 24/7 eyeliners. As with eyeliner, I always wear

(8) mascara

and am currently using up a small tube of

Clinque's High Impact mascara

, which used to be my favourite until I discovered bareMinerals. Next, I'll dab on a bit of this

(9) Witch Concealer stick

in 01/Natural onto any spots I might have. I think this concealer stick is discontinued now which is a shame because it's blended with Tea Tree Oil and gives excellent coverage.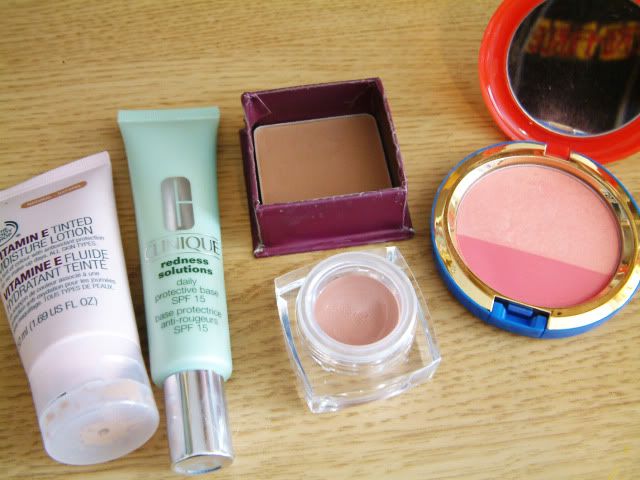 I don't tend to wear foundation for everyday, so I've been trying out

(10) The Body Shop's Vitamin E Tinted Moisturiser

which gives a light coverage and lasts a decent amount of time too. It's a little too greasy feeling for my oily/combination skin on its own so I use

(11) Benefit's Hoola Bronzing Powder

all over to mattify (I've got olive coloured skin, so Hoola works well as a normal face powder for me). To cover up any red areas, usually around my nose, I apply a tiny bit of

(12) Clinique's Redness Solutions

, which is a thick green coloured cream which counteracts the red and equals it out. A fab product which also has SPF 15. I finish up by applying a

(13) blusher

, my current favourite is

MAC's Wonder Woman powder blush

in Mighty Aphrodite. And lastly, I put on a little slick of a neutral coloured

(14) lipgloss

such as

ELF's Conditioning Lip Balm

in Nice and Natural. All done!

So, I clocked up

14 products

! Other products that I might use if I had extra time or just fancied it, would be:- a

clear mascara

if I felt my brows needed a little tidying, a

translucent powder

for setting everything if I didn't want to use Hoola, and an

inner corner highlight

for my eyes if I needed that extra illusion of looking more awake.

How many make-up products do you use on a daily basis?