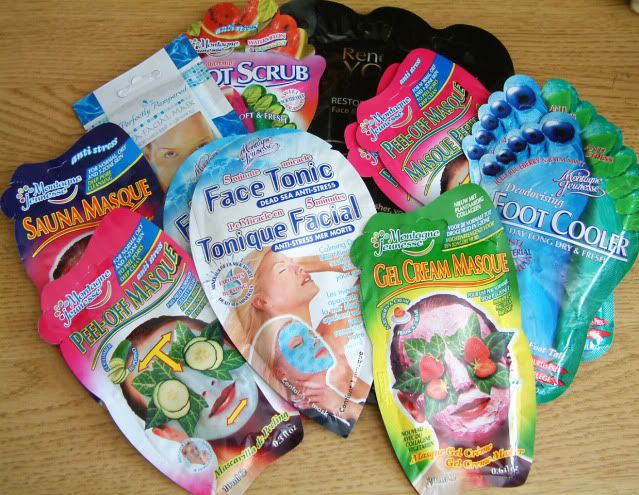 About a month ago I received a swap package of

Montagne Jeunesse

products. Montagne Jeunesse is a brand that takes me back to that wonderful era of being a kid and having girly sleepovers, but I haven't used anything by them since then. I chose five at random to start with and here's what I thought:-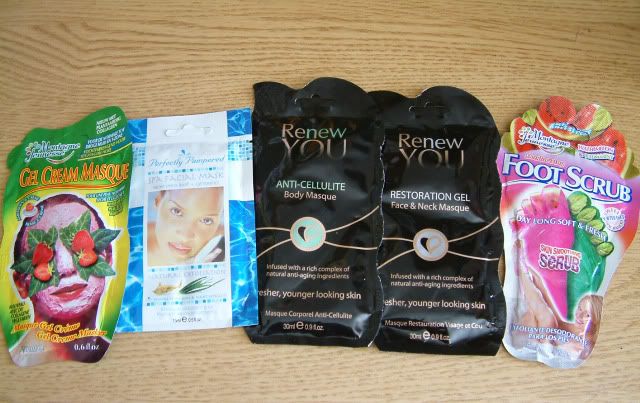 Always on the hunt for a quick face mask, I liked the

Gel Cream Masque in Strawberries and Cream

which is a thick creamy mask with little scrubby bits. Very gentle on the skin, smells lovely and leaves skin feeling nice and smooth.

Next, I tried the

Spa Facial Mask

(with aloe vera, ginseng and plant extracts). A fruity scented exfoliator which does a great job of removing dull dead skin and making it look fresh and clean again. I saw a noticeable difference in my skin afterwards, pores looked smaller and my face looked brighter.

Two products that I was sceptical about were from the

Renew You

range. I tried the

Restoration Gel Face and Neck Masque

which has a thick cream consistency to start with and then dries to a thin jelly/gel. I was put off my its heavy perfumed scent but it did leave my skin smooth and soft afterwards. I then used the

Anti-Cellulite Body Masque Gel

, a clear orange tinged gel with lots of microbeads for exfoliation. Once on, it has an instant cooling effect which borders on tingling but I didn't notice anything else once it was rinsed off.

Lastly, I tried the

Deodorising Foot Scrub

which smells AWFUL (very medicinal, not my thing at all) but did a good job making my feet smooth and fresh.

Not a bad batch to start off with, I'll post part 2 when I've tried them.