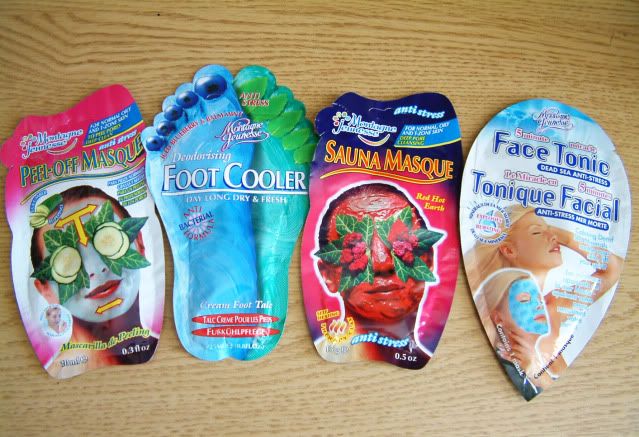 Here's the final part of my
Montagne Jeunesse
products review, you can read part one
here
.
Peel off face masks were probably the first type of mask I tried when I was a teen because so many were formulated for troublesome young skin. MJ's
Peel-Off Masque
is your standard generic version. It has a strong, almost medicinal scent to it which made my eyes water a little as I was applying, though it soon went away after a minute or so. You leave it on for about 10 minutes or until the cold liquid has dried and then peel it off. My skin felt very clean afterwards but that scent would put me off from using it again.
For an extra pampering treat, I used the
Deodorising Foot Cooler
which is a strange cream foot talc. Like some foundations, it applies like a cream and then tries to a powder. There was plenty in the sachet to thoroughly cover both of my feet and I experienced a pleasant cooling sensation. One that I would use more of next Summer I think.
Back to face masks, the
Sauna Masque
was the one which I was most excited to try out because I LOVE warming treats like this, especially when it's cold outside. The self-heating mask has a subtle clean scent and heated up extremely well (some that I have tried in the past heat up for about 30 seconds and that's your lot - this one lasted a good few minutes). I got two uses out of one sachet and my skin felt wonderfully soft after. Definitely my favourite out of the bunch.
Lastly, I tried the
Face Tonic
, which as you can see in the photo, is one of those cloth masks which are impregnated with the solution. It promises to be a '5 minute miracle', contains dead sea minerals and helps to de-stress. Well, it didn't perform much of a miracle for me (my skin did feel nice and clean but that was about it) but I can vouch for its de-stressing ability. Due to the nature of the cloth mask, it forces you to sit/lie down whilst the treatment takes effect. I am guilty of putting on a face mask and then rushing around to do other things, so I liked that it made me stop what I was doing and relax.
It's been a lot of fun trying these out. I think I may have become addicted to face masks and treatments though!
P.S My
Glossybox
is currently being held hostage at the Royal Mail depot, so I've been avoiding the blogosphere to prevent from ruining the surprise! Hopefully I can pick it up tomorrow and I'll put a post when it's in my hands. Is it a good one?!