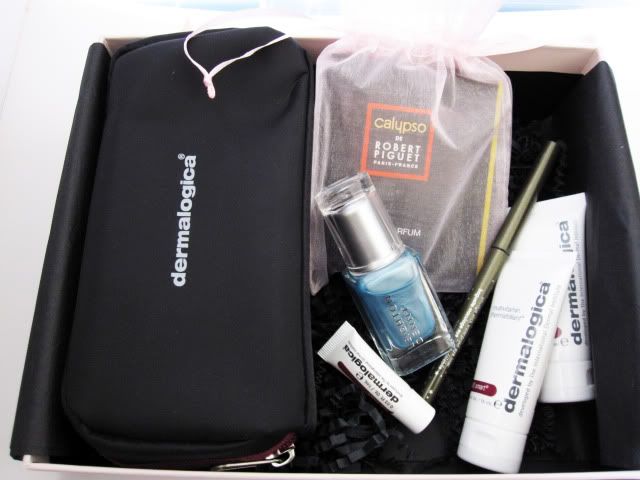 A belated Glossybox post, but better late than never right? Here's what was in mine:-






(1) Dermalogica Age Smart MultiVitamin Power Recover Masque

, 15ml sample (full size 70ml - RRP £33) - "

a powerful masque of concentrated antioxidant vitamins to help skin recover and regenerate.

" I am obssessed with face masks at the moment so I'll certainly be trying this out asap. Sample size looks like enough for two uses which is good.



(2) Dermalogica Age Smart MultiVitamin Thermafoliant

, 15ml sample (full size 75ml - RRP £40.50) - "

a powerful thermal skin polisher that combines physical and chemical exfoliants.

" This seems to be like a fancy face scrub basically. Not really liking the sound of 'chemical exfoliants' all that much, but I'll read up on it and give it a go.



(3) Dermalogica Age Smart Renewal Lip Complex

, 1ml sample (full size 1.75ml - RRP £22.50) - "

a daily treatment that restores the delicate lip tissue.

"
To celebrate their 6-month milestone, Glossybox decided to put in an extra sixth product in this month's box which is this lip treatment and a beauty bag. I've tried the lip complex and it's OK, feels nice on.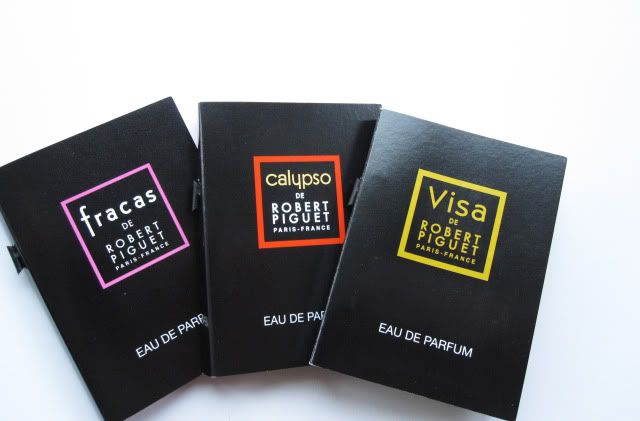 (4) Robert Piguet Eau De Parfums in Fracas, Visa and Calypso, 0.8ml samples (full size 50ml - RRP £65 each) - "three signature scents from the most Parisian of fashion designers". Yeah, I'm getting a bit fed up of these perfume samples in nearly every box. These will be passed on, again.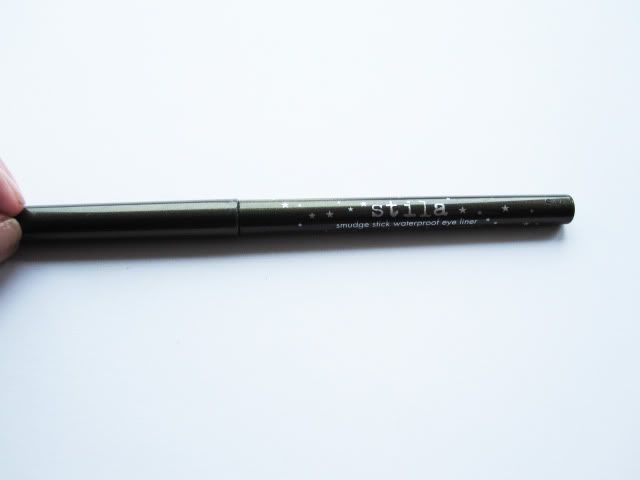 (5) Stila Smudge Stick Waterproof Eyeliner in Moray, full size (RRP £13) - "

highly pigmented, waterproof eye liner glides on delivering intense, vibrant colour with staying power.

" This looks amazing, the colour looks gorgeous but mine is BROKEN. I know some people had a lot of trouble with the twisting up mechanism, but mine has a fault running through it in the plastic and won't budge at all. Contacted GB and they are sending me a replacement, so I'll put up a separate review of that when it arrives.






(6) Leighton Denny nail polish in Sex Kitten

, full size (RRP £11) - Excited to try this because I've seen a few bloggers talk about how great Leighton Denny polishes are. The packaging looks quite cool, not sure about the colour yet but I'll post a NOTD soon no doubt. Cringeworthy name though that doesn't really go with the shade at all but I'm glad I got this one instead of the other pinks and oranges as I have far too many of those already.



Summary:

I'm impressed with the full size Stila (even though it's broken... I'm sure it will be fabulous when its replacement arrives!) and Leighton Denny products. I'm not sure about having THREE Dermalogica products in the same box. I know its an expensive skincare brand, but it just seems rather lazy to me to do that or it's like the brand are really wanting to force themselves onto people. I would have preferred perhaps the extra sixth product to be from a different brand that I could try out, afterall, isn't that what Glossybox is meant to be all about? Saying that, I will use all of the products except the perfumes, and it is excellent value for money again.