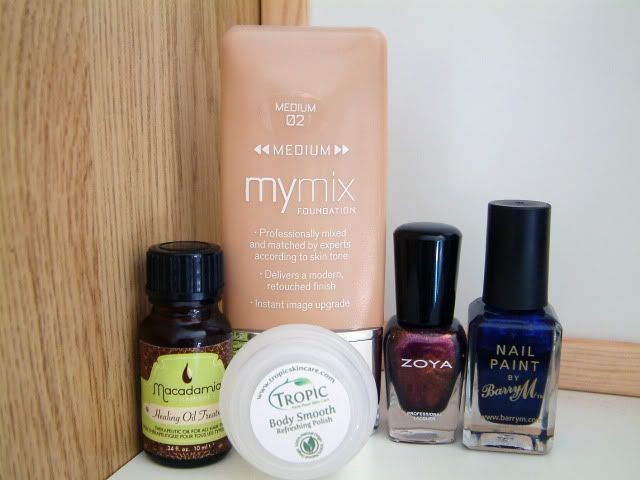 It hardly feels like September has passed, what with this glorious HOT weather we're having at the moment, but here are my five favourites for last month:-
(1) Macadamia Healing Oil Treatment
- The ends/lengths of my hair often can feel quite dry so I'm a bit of a hair oil fiend. Macadamia Oil is virtually the same as Moroccan Oil in terms of them both being an amazing treatment for the hair and helping to repair damage. The only difference I can find between the two is that Moroccan Oil smells slightly stronger than Macadamia Oil (both smell quite similar anyway), but it really is just a tiny difference. I received this 10ml sample bottle in my
Boudoir Prive
box and I simply love it!
(2) Myface Mymix Foundation
- I've been using this quite a bit this month, review and swatches
here
.

(3) Tropic Skincare Body Smooth Refreshing Polish
- Another lovely new favourite that Boudoir Prive have introduced me to. I'm going to have to save up to get a full size pot of this! Mentioned in my monthly
empties
.
(4) Zoya nail polish in Jem
- Boudoir Prive have really impressed me, this is my third new favourite item from this month's box. I've been wearing this ever since I received it. NOTD
here
.
(5) Barry M nail polish in 292 Navy
- Probably my go-to Barry M favourite for autumn colours, I never get bored of this. Used as the base for my galaxy nails
here
.
What are your monthly beauty favourites?