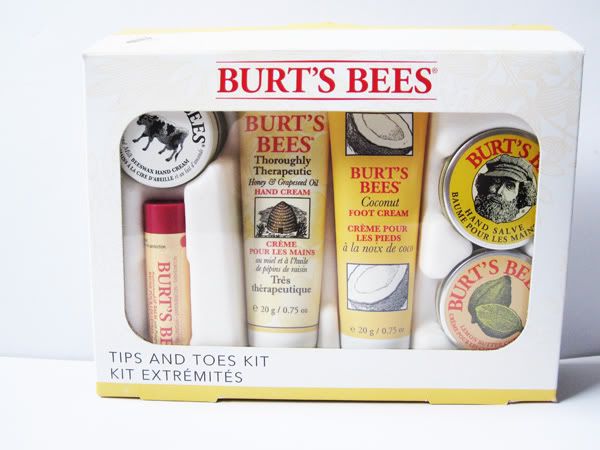 I was doing very well with my self-imposed spending ban/restricted budgeting for the month, when I spotted this bargain over at
Buyapowa
. I purchased it straight away for my mum, as I knew she'd love it for Mother's Day (buying stuff for other people doesn't count right?), being a Burts Bees fan like myself. Then I checked my Paypal account, saw that I still had some surplus funds in there, and bought one for myself. Did I
need
this? Erm....no. Did I
want
it because it was a bargain that I couldn't refuse? Yes!
So for the grand sum of around £7 plus postage, I bought myself the
Burts Bees Tips And Toes Kit
, which consists of travel size/try me versions of some of their bestselling products. You get all of these:
Almond Milk Beeswax Hand Cream, Thoroughly Therapeutic Honey & Grapeseed Oil Hand Cream, Coconut Foot Cream, Hand Salve, Lemon Butter Cuticle Cream
, and a full size
Replenishing Pomegranate Lip Balm
. Seeing that the lip balm alone is nearly £4, I thought this was a great bargain and I've wanted to try out some more products from Burts Bees for ages but never gotten around to picking anything other than the lip balms up. I'll put up some mini reviews of the products once I've tried them out, so you'll probably see them in some upcoming
empties
posts.
Have you tried any of these from Burts Bees?