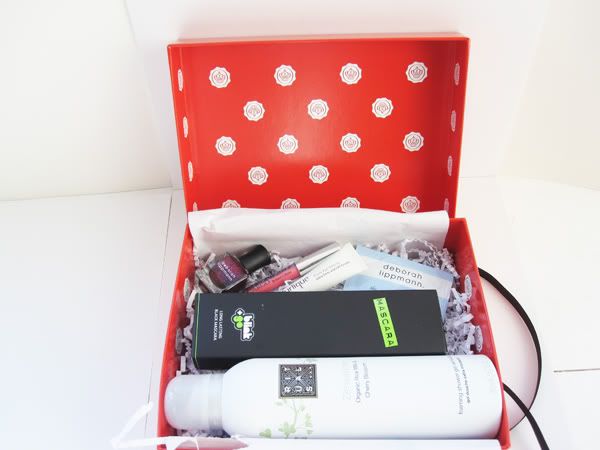 I totally caved and got the Christmas Glossybox. I know, I know, I was annoyed with them last month, sent the box back for a refund and cancelled my sub, but I decided to get this one anyway after seeing the products. I have to say that Glossybox's customer service has been excellent. I had no problems with getting a refund for November, no problems with signing back up again and no problems when Royal Mail somehow managed to lose this month's box! Glossybox sent me another straight away via Express/Nextday delivery and here it is.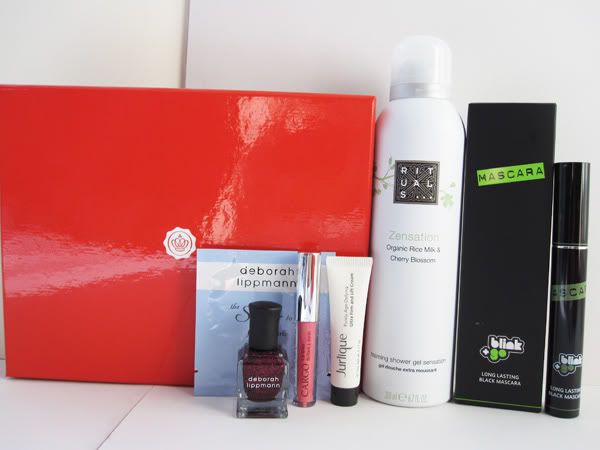 The contents: (1) BLINK + Go Long Lasting Mascara - I was really pleased to get this because I wasn't all that keen on the Blink & Go palettes that others were sent (they looked nice enough, don't get me wrong, but I'm the kind of person who will always want mascara instead if it's an option!). This thing is huge and I'm looking forward to trying it out. (2) Cargo Cosmetics Classic Lip Gloss in Tokyo - I was a little dubious when I saw this because I'd tried a Cargo eyeliner from a Boudoir Prive box a few months back which was quite frankly rubbish, so I was pleasantly surprised by this. Tokyo is a gorgeous everyday pink with a subtle hint of gold shimmer. Formula wise it's glossy without any stickiness and it reminds me of Clinique's Superbalm Moisturizing Glosses which I always have in my handbag. (3) Deborah Lippmann Mini Nail Varnish in Razzle Dazzle & Stripped To Go Sachet - Yes, you've guessed it, this was the main deciding factor for getting the box. How GORGEOUS is that nail polish?! I can't wait to wear this. I'm also interested in the little nail remover mitt too and seeing how effective it is for glitter polishes. (4) Jurlique Purely Age-Defying Ultra Firm and Lift Cream - I knew that this was the sample where there was a lot of variation as to what people got and although I was initially disappointed because I wanted something else like the MeMeMe sample instead, Jurlique is a brand that my mum uses so she'll probably like this. (5) Rituals Foaming Shower Gel in Zensation Organic Rice Milk and Cherry Blossom - It seemed really odd to me that as more brands deliberately choose to remove foaming agents from their products due to consumer demand, that then a brand should come out like this which has foaming as its USP! Weird! Not keen on the scent of this but I'll probably use it up as a shaving foam.

Summary: Glossybox obviously made a big effort for their December box, as many customers had anticipated something extra special and I think most will be pleased with this month's selection of products. However, I have cancelled my sub again and will only be purchasing boxes after I've seen what's in them, and it's likely to be boxes where most people get the same things. I do think Glossybox have definitely improved their customer service and I'll be interested to see if they start tailoring boxes to customers beauty profiles in the New Year.

Did you get the December Glossybox? Which products did you receive?